Today's Little List of Reviews features three historical romances that I've recently read! All three are new to me authors, and two series I will continue with and one I will not!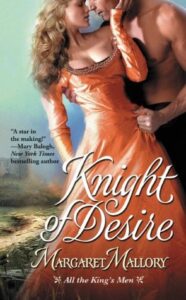 Title:

Knight of Desire

by Margaret Mallory
Series: All the King's Men #1
Published by Forever
Published: July 1st 2009
Genres: Romance
Pages: 354
Format: Mass Market
Goodreads


FEARLESS IN BATTLE
His surcoat still bloody from battle, William FitzAlan comes to claim the strategic borderlands granted to him by the king. One last prize awaits him at the castle gates: the lovely Lady Catherine Rayburn.

TENDER IN BED
Catherine risked everything to spy for the crown. Her reward? Her lands are declared forfeit and she is given this choice: marry FitzAlan or be taken to the Tower. Catherine agrees to give her handsome new husband her body, but she's keeping secrets, and dare not give him her heart. As passion ignites and danger closes in, Catherine and William must learn to trust in each other to save their marriage, their land, and their very lives.
I had an omnibus of the first two in this series, but I decided I liked the original covers and I don't think the third book was going to be released in the newer format, and I'm a completionist. So. I enjoyed this for the most part. I think it was more due to the setting and the history involved with the medieval setting than the actual characters themselves. The heroine was true to form, discovering herself after being married to a terrible man who held no regard for her. But the hero got annoying after a while. Like yes, you're a decent person for not forcing yourself on her, but he kept complaining about the heroine's trauma repeatedly, and it got tiresome after a while. Overall, I'm going to continue the series and hope the heroes get better in the subsequent titles!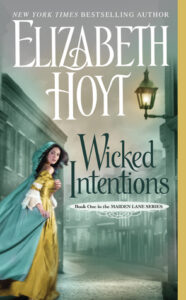 Title:

Wicked Intentions

by Elizabeth Hoyt
Series: Maiden Lane #1
Published by Grand Central Publishing
Published: August 1st 2010
Genres: Romance
Pages: 382
Format: eBook
Source: Library
Goodreads


A man controlled by his desires . . .
Infamous for his wild, sensual needs, Lazarus Huntington, Lord Caire, is searching for a savage killer in St. Giles, London's most notorious slum. Widowed Temperance Dews knows St. Giles like the back of her hand-she's spent a lifetime caring for its inhabitants at the foundling home her family established. Now that home is at risk . . .

A woman haunted by her past . . .
Caire makes a simple offer-in return for Temperance's help navigating the perilous alleys of St. Giles, he will introduce her to London's high society so that she can find a benefactor for the home. But Temperance may not be the innocent she seems, and what begins as cold calculation soon falls prey to a passion that neither can control-one that may well destroy them both.

A bargain neither could refuse.
I didn't really care for this one. I liked the heroine and her work the most and that she felt torn toward duty and her desires, but like…………… so much of this was over the top for me, even for a historical romance. I don't know what it was, honestly. I kept reading it though, I enjoyed the writing itself, but the story wasn't for me. The hero was pretty terrible to the heroine and never makes any effort to forgive himself towards her for it. There was also a buildup to bondage but nothing was ever fully committed to on the page, so it's teasing but in the not fun way??  I don't think this series is for me either, because I read the first couple of chapters from the second in the Maiden Lane series and didn't like where the story was going to go. I have another first book in a series by Hoyt, so I'll give that one a go soon to see if it's just me with this particular series or if it's the author I don't mesh with.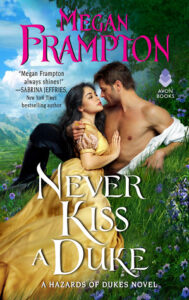 Title:

Never Kiss a Duke

by Megan Frampton
Series: Hazards of Dukes #1
Published by Avon
Published: January 28th 2020
Genres: Romance
Pages: 358
Format: Mass Market
Source: Purchased
Goodreads


A disinherited duke and a former lady are courting much more than business in the first novel in Megan Frampton's newest titillating series, Hazards of Dukes.
Everything he had ever known was a lie…
Sebastian, Duke of Hasford, has a title, wealth, privilege, and plenty of rakish charm. Until he discovers the only thing that truly belongs to him is his charm. An accident of birth has turned him into plain Mr. de Silva. Now, Sebastian is flummoxed as to what to do with his life—until he stumbles into a gambling den owned by Miss Ivy, a most fascinating young lady, who hires him on the spot. Working with a boss has never seemed so enticing.
Everything tells her he's a risk she has to take
Two years ago, Ivy gambled everything that was precious to her—and won. Now the owner of London's most intriguing gambling house, Ivy is competent, assured, and measured. Until she meets Mr. de Silva, who stirs feelings she didn't realize she had. Can she keep her composure around her newest employee?
They vow to keep their partnership strictly business, but just one kiss makes them realize that with each passing day—and night—it becomes clear to them both that there's nothing as tempting as what is forbidden…
While I liked this one, liked the characters, liked the writing,
nothing much happened
. This was definitely the set up to the series, had a lot of supporting characters that I'm looking forward to reading about in the rest of the series, and Frampton's writing is engaging! The chemistry between the hero and heroine was believable and sparkling, but aside from the development of themselves and their relationship, the heroine hires the hero to work in her gaming den, they fall in love, the hero finds out some things about being and not being a duke, and it's a happy ending. I'm not sure I'll purchase the rest of the books aside from the fourth I bought thinking it was part of a new series, but I'll definitely read them from my library!!