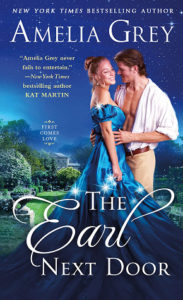 Title:

The Earl Next Door

by Amelia Grey
Published by St. Martin's Paperbacks
Published: May 28th 2019
Genres: Romance
Pages: 294
Format: eBook
Source: Netgalley
Goodreads


What does a Wickedly Wonderful Widow really want? One noble suitor is about to find out. . .

Adeline, Dowager Countess of Wake, is all on her own after her husband's sudden death. The good news? Losing him allowed her to find herself. Finally, Adeline is free to do, go, and be as she pleases. She cherishes her newfound independence and is not looking for another man to wed. But seeking out a new lover? Well, that is a whole 'nother story. . .

Lord Lyon, son of the two-timing Earl of Marksworth, wishes to have a respectable, loving wife someday. When he meets the beautiful and self-reliant Adeline, Lyon is instantly smitten. But Adeline would rather have the handsome suitor in her bed than to take his hand in marriage. It's a scandalous proposal—and one that's hard for Lyon to refuse. Unless the fire of his passion can melt Adeline's resolve. . .and he can find a way to be the Wickedly Wonderful Widow's lover for all time?
Only within the last year or so have I started reading romance, and I fully admit to having a lot of biases associated with the genre for the longest time until, you know, I actually started
reading it
and following some romance writers on Twitter and realizing there's a lot more to the genre than I expected. Much in the same way I read fantasy to be delighted by magic systems and a subversive reality and science fiction to explore strange and familiar worlds, the romance I've read has offered a little swoon-worthy escape from the drudgery of every day. And since I tend to gravitate toward historical romance, I get to enjoy the commentary and dives into women's spheres while escaping for a little bit.
Amelia Grey's The Earl Next Door is about Adeline, Dowager Countess of Wake, who lost her husband at sea. Her two friends, also widows, have joined with her to open up a school for young girls who have also lost family members at sea. Her next door neighbor, Lord Lyon, Earl of Marksworth, first assumes she is running a house of ill-repute and then is later rudely awakened and frustrated by the house of school-aged girls disturbing his mid-morning sleep.This sets off the attraction, sparks, and tension between Adeline and Lyon that continues through the rest of the book.
I thought it was an easy, fun read, and perfect for a week that was more than a little stressful! To me, the ending was a little contrived, but ultimately it works with the story itself, and I'm curious to see how the rest of the series pans out because I loved Adeline's two friends so much!
Many thanks to St. Martin's Press for an advance review copy! All opinions are my own!