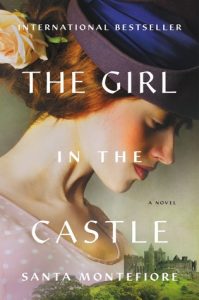 Title:

The Girl in the Castle

by Santa Montefiore
Published by William Morrow Paperbacks
Published: September 27th 2016
Genres: Fiction, Historical
Pages: 576
Format: Trade Paper
Source: Library
Goodreads


The Girl in the Castle
is about the lives of women around an estate in Ireland. It's the first in a trilogy that spans before, during, and just after World War I and the Irish War of Independence. It's expansive and well-detailed historical fiction, but I found it typical of the genre. There's romance, war, and rape. I am so incredibly tired of rape being used as a plot device to make us feel pity for that character. While I understand it can be used as a plot device to explore certain aspects of how women and men are treated in society, I really hate when it's used to just add "flavor" to a narrative as I feel like it's used here.
Aside from that, it's a well-structured historical novel that kept me interested. It has a wide variety of characters from all backgrounds, and Montefiore explores nearly all aspects of the characters and compels you to care for the protagonists in some way. Montefiore also weaves historical significance of both the Irish War for Independence and World War I throughout the narrative, showing how both wars affect each of the characters and the fate of the estate.
Sometimes I felt as if there were too many characters to follow, and I hope there are fewer in the second and third novel. Often times what happens with several characters to follow in any series is that the storylines blur and individual voices are hard to differentiate.
It's a novel that was reminiscent of Downton Abbey, and if you're in the mood for something more after finishing that show, this is the start of an expansive trilogy. I am looking forward to reading the next one!