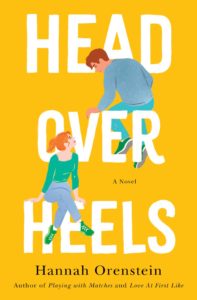 Title:

Head Over Heels

by Hannah Orenstein
Published by Atria Books
Published: June 23, 2020
Genres: Romance
Pages: 336
Format: ARC
Source: Publisher
Buy: Bookshop(afflilate link)
Goodreads


The past seven years have been hard on Avery Abrams: After training her entire life to make the Olympic gymnastics team, a disastrous performance ended her athletic career for good. Her best friend and teammate, Jasmine, went on to become an Olympic champion, then committed the ultimate betrayal by marrying their emotionally abusive coach, Dimitri.
Now, reeling from a breakup with her football star boyfriend, Avery returns to her Massachusetts hometown, where new coach Ryan asks her to help him train a promising young gymnast with Olympic aspirations. Despite her misgivings and worries about the memories it will evoke, Avery agrees. Back in the gym, she's surprised to find sparks flying with Ryan. But when a shocking scandal in the gymnastics world breaks, it has shattering effects not only for the sport but also for Avery and her old friend Jasmine.
I have loved every single one of Hannah Orenstein's books since her debut Playing With Matches, and I have it on good authority that I will love every single book she'll write, too. Head Over Heels follows the (now-alternate universe) trajectory of Avery, a former gymnast with the Olympics in view, becoming a coach to an up-and-coming gymnast when Avery moves back to her hometown after a breakup and a need to start fresh in some way. However, when Avery returns home, she feels like she's living in the shadow of her former life. Reconnecting with her past and reconciling the future that never was, Avery has to confront everything she has tried to leave behind — her childhood friend who ended up going to the Olympics and doing everything she dreamed of doing, her parents, her former coach, her former crush, and all of the intricacies and difficulties associated with what she has tried to leave behind.
One thing that Orenstein does really well in each of her books is a balance between that perfect rom-com fluff and an engaging amount of emotional and thematic depth. To me, the characters and their reactions and responses to the world in which they live seem true and well-balanced. The settings in which these characters exist and the world created for them feels like something I could watch on a big, cinematic screen and in which I could get lost for a few hours. I don't know the first thing about gymnastics aside from a casual viewing here and there whenever the Olympics are on television, but Orenstein makes you care and makes you want to know more, and it's obvious this is a subject dear to her heart. She tackles the heavier subjects and the #metoo movement within the gymnastics sphere incredibly well and with a lot of grace, and that's something I think is difficult to achieve.
This is a well-rounded contemporary romance that kept me hooked from the first page, so if you're looking for a bright summer romance with a lot of heart, check out Head Over Heels, and then read the rest of Orenstein's fiction if you haven't yet!
Many thanks to Atria for sending me an advance reader's copy; all opinions are my own!