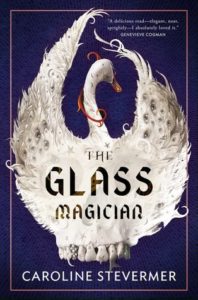 Title:

The Glass Magician

by Caroline Stevermer
Published by Tor Books
Published: April 7th 2020
Genres: Fantasy
Pages: 288
Format: ARC
Source: Netgalley
Buy: Bookshop(afflilate link)
Goodreads


A gilded menagerie rules a Gilded Age: Bears and Bulls are not only real, but dominate humanity in The Glass Magician, an amazing historical fantasy by Caroline Stevermer

What if you could turn into the animal of your heart anytime you want?
With such power, you'd enter the cream of New York society, guaranteed a rich life among the Vanderbilts and Astors, movers and shakers who all have the magical talent and own the nation on the cusp of a new century.

You could. If you were a Trader.

Pity you're not.

Thalia is a Solitaire, one of the masses who don't have the animalistic magic. But that is not to say that she doesn't have talent of another kind—she is a rising stage magician who uses her very human skills to dazzle audiences with amazing feats of prestidigitation. Until one night when a trick goes horribly awry…and Thalia makes a discovery that changes her entire world. And sets her on a path that could bring her riches.

Or kill her.
The Glass Magician
is set in an alternative Gilded Age New York City in which magic exists beyond the stage performance. Thalia is a stage magician who realizes after watching a trick go horribly wrong for her and again on stage for someone else that there is more to her world than she knew before. It is a world of shape shifters tied by bloodline, and she is one of them after thinking she was a Solitaire (a human who doesn't shape shift) for her entire life.
I ended up feeling rather so-so about the last third of the book because it felt both melodramatic and rushed at the same time. The magic trick at the end to reveal the true killer and motive didn't seem to flow as well with the story as I would have liked, but I think that's also to do with the world building. However, it did leave me hopeful that there would be more books set in this universe because the foundation has been laid for a lot more exploration and examination.
I enjoy "quiet" novels, stories that are a bit slower and softer than the usual fantasy fare of high-octane action. I loved the setting of an alternate New York City in the Gilded Age, and I imagined magic and magic tricks revealed and performed in gas-lit rooms and lush dresses of mint and lilac and rose contrasting with the darker elements of this society and the magic therein. Most of these thoughts were more of my own projections of my enthusiasm of the era, but I enjoyed this book for what it was. I think I was left wanting because I knew there could be more – from world building to character development to character interactions. So much of it felt like a superficial magic trick. Pretty to read and to look at, but I felt like I could see right through the tricks.
Thank you to Tor Books and Netgalley for the advance reader copy; all opinions are my own.