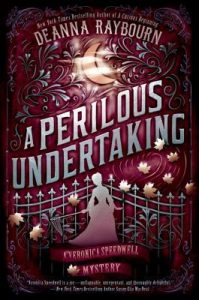 Title:

A Perilous Undertaking

by Deanna Raybourn
Series: Veronica Speedwell #2
Published by Berkley Books
Published: January 10th 2017
Genres: Mystery
Pages: 352
Format: eBook
Source: Netgalley
Goodreads

Veronica Speedwell returns in a brand new adventure from Deanna Raybourn, the New York Times bestselling author of the Lady Julia Grey mysteries...
London, 1887 . . Victorian adventuress and butterfly hunter Veronica Speedwell receives an invitation to visit the Curiosity Club, a ladies-only establishment for daring and intrepid women. There she meets the mysterious Lady Sundridge, who begs her to take on an impossible task saving society art patron Miles Ramsforth from execution. Accused of the brutal murder of his artist mistress Artemisia, Ramsforth will face the hangman's noose in a week s time if Veronica cannot find the real killer.
But Lady Sundridge is not all that she seems and unmasking her true identity is only the first of the many secrets Veronica must uncover. Together with her natural historian colleague Stoker, Veronica races against time to find the true murderer a ruthless villain who not only took Artemisia s life in cold blood but is happy to see Ramsforth hang for the crime.
From a Bohemian artists colony to a royal palace to a subterranean grotto with a decadent history, the investigation proves to be a very perilous undertaking indeed....
In the second installment of the Veronica Speedwell mysteries, Veronica continues to be a woman out of her time. The mystery in this one is not as prominent as it was in the first, but I found this to be excellent in learning more about who Veronica (a lepidopterist) and Stoker (a natural historian) are. We find out more about Stoker's past and meet some of his family, and I found that it really rounded out Stoker as a character.
With her ties to a major family, Veronica is swept up into a job preventing the hanging of someone some believe to be innocent. Along the way, Veronica and Stoker become closer friends with so much romantic tension hanging between them. While I'm not really one for romances in a traditional sense, I'm really liking this slow burn, and I'm hoping that later in the series something happens because I have a feeling it will be so satisfying to read.
The other characters in the novel are well-developed and engaging, and I felt each of them added so much to the depth of the story. I loved all of the incidents Veronica and Stoker find themselves in, and I especially loved the peeks into that upper-class art scene and those sex houses/clubs of Victorian England.
If you enjoy vivacious and smart women, broody and Byronic men, visual glimpses into life in Victorian England, and a lot of humor and tension, these mysteries should be on your reading lists!
Thank you to Netgalley and Berkley Books for a review copy! All opinions are my own.