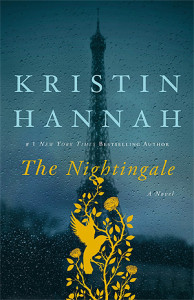 Title:

The Nightingale

by Kristin Hannah
Published by St. Martin's Press
Published: February 3rd 2015
Genres: Fiction, Historical
Pages: 440
Format: Hardcover
Source: Library
Buy: Bookshop(afflilate link)
Goodreads


In the quiet village of Carriveau, Vianne Mauriac says goodbye to her husband, Antoine, as he heads for the Front. She doesn't believe that the Nazis will invade France...but invade they do, in droves of marching soldiers, in caravans of trucks and tanks, in planes that fill the skies and drop bombs upon the innocent. When France is overrun, Vianne is forced to take an enemy into her house, and suddenly her every move is watched; her life and her child's life is at constant risk. Without food or money or hope, as danger escalates around her, she must make one terrible choice after another.

Vianne's sister, Isabelle, is a rebellious eighteen-year-old girl, searching for purpose with all the reckless passion of youth. While thousands of Parisians march into the unknown terrors of war, she meets the compelling and mysterious Gäetan, a partisan who believes the French can fight the Nazis from within France, and she falls in love as only the young can...completely. When he betrays her, Isabelle races headlong into danger and joins the Resistance, never looking back or giving a thought to the real--and deadly--consequences.

With courage, grace and powerful insight, bestselling author Kristin Hannah takes her talented pen to the epic panorama of WWII and illuminates an intimate part of history seldom seen: the women's war. The Nightingale tells the stories of two sisters, separated by years and experience, by ideals, passion and circumstance, each embarking on her own dangerous path toward survival, love, and freedom in German-occupied, war-torn France--a heartbreakingly beautiful novel that celebrates the resilience of the human spirit and the durability of women. It is a novel for everyone, a novel for a lifetime.
Men tell stories. Women get on with it. For us it was a shadow war. There were no parades for us when it was over, no medals or mentions in history books. We did what we had to during the war, and when it was over, we picked up the pieces and started our lives over.
I'd heard a lot about this book from various people, publications, and my old job at the bookstore. It kept showing up everywhere, so I finally decided to reserve it at the library and give it a go. We usually hear about the stories of men in wars, a man's heroic actions, and a man's role in the war, but we hardly hear of what women went through during any war. Not in popular commercial fiction, anyway. I'll be the first to admit that I was hesitant on picking it up because Hannah's other works aren't titles of interest to me, but I'm all about expanding my horizons this year. I'm glad I did for this one.
In The Nightingale, Hannah explores the relationship between two French sisters during World War II. It started out slow, a bit cliche at times, but by the time I got through a third of the book, I couldn't put it down. I read straight on from about eight-thirty in the morning to noon. I wanted to read more of Isabelle's story, and I can certainly see from this interview why Hannah wrote about a young woman leading hundreds of soldiers to freedom. I don't recall reading anything even remotely similar to that in my history books, nor are the actions of women often spoken about in reference to the war. The Nightingale shows two women fighting their own battles during the war in their own ways, sometimes through being outspoken and daring, and sometimes through hardship and resilience.
Even though the story seemed too tidy and too happily-ever-after in its resolution, I really enjoyed reading it, and it makes me want to read more about the women who played such pivotal roles in World War II.