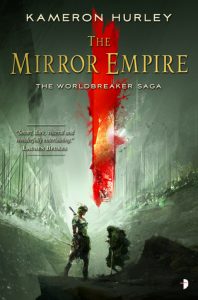 Title:

The Mirror Empire

by Kameron Hurley
Series: Worldbreaker Saga #1
Published by Angry Robot
Published: September 1st 2015
Genres: Fantasy
Pages: 608
Format: Mass Market
Source: Purchased
Goodreads


On the eve of a recurring catastrophic event known to extinguish nations and reshape continents, a troubled orphan evades death and slavery to uncover her own bloody past... while a world goes to war with itself.
In the frozen kingdom of Saiduan, invaders from another realm are decimating whole cities, leaving behind nothing but ash and ruin. At the heart of this war lie the pacifistic Dhai people, once enslaved by the Saiduan and now courted by their former masters to provide aid against the encroaching enemy.
Stretching from desolate tundra to steamy, semi-tropical climes seething with sentient plant life, this is an epic tale of blood mages and mercenaries, emperors and priestly assassins who must unite to save a world on the brink of ruin.
As the dark star of the cataclysm rises, an illegitimate ruler is tasked with holding together a country fractured by civil war; a precocious young fighter is asked to betray his family to save his skin; and a half-Dhai general must choose between the eradication of her father's people or loyalty to her alien Empress.
Through tense alliances and devastating betrayal, the Dhai and their allies attempt to hold against a seemingly unstoppable force as enemy nations prepare for a coming together of worlds as old as the universe itself.
In the end, one world will rise - and many will perish.
And some of us believe in freedom of the individual over the tyranny of the common good.
After reading Kameron Hurley's Stars are Legion, I immediately wanted to read everything else she's written. I picked up The Mirror Empire at work because it was the only other thing aside from Stars are Legion that we had in stock by her at the moment, and I started reading it as my first pick for a Tome Topple read-a-thon this month. I wasn't disappointed, and it was one of the best epic fantasy novels I've read in a long time.
The Mirror Empire subverts the popular tropes found in epic, patriarchal fantasy. While not as visceral and gross as Stars are Legion, this world Hurley has created in The Worldbreaker Saga certainly skeeved me out at times. Some of the buildings are organic, some of the weapons are organic (and attached to bodies by way of seeds in the wrists, of which I imagined coming out much like Wolverine's claws???), some of the magic is blood magic. It's the sort of fantasy with the perfect balance of violence and horror that gives you chills and thrills down your spine.
The story is complex and ambitious and takes a little while to get used to because nearly everything about the worlds in The Mirror Empire is different from our own familiarities. It calls into question our own ideas and expectations of gender, gender roles, family structures, and "how things have always been done." The way in which Hurley does this is subtle. The questions and observations about our own society are covert but become a series of questions you as a reader begin to ask yourself as you explore the lives of the main characters in the story. For example: why is it generally acceptable to us as a society for women to be kept small, beautiful, and always ready for (male) consumption, but when it's subverted and the men are kept small, beautiful, and always ready for (female) consumption, it's striking and odd? I enjoyed the trope subversion immensely, and I want to keep reading the series to see where she goes with it next.
It's certainly a mirror that reflects the best and worst of the expectations of the fantasy genre and our society, and if that's an intentional pun, I like it. I think if you like epic fantasy and are looking for something new and different in the genre, you should check this one out!