Waiting on Wednesday is a weekly meme hosted by Jill at Breaking the Spine that highlights upcoming releases that we're impatiently waiting for! This week, I'm going to focus on a few upcoming YA/MG science fiction and fantasy reads coming out this fall that I can't wait to read!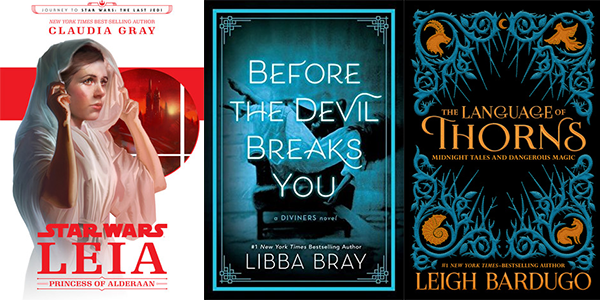 Claudia Gray's Leia, Princess of Alderaan is super high on my list for this fall's reads because Star Wars and Princess Leia. It was just recently announced and there isn't much out there regarding a synopsis, but I am loving this cover and I'm hoping it's about Leia's life on Alderaan before she's on the Death Star at the beginning of A New Hope.
Libba Bray's The Diviners series is one of my favorite YA series of all time. It's a dense, well-built series that's worth the effort to get involved in it, and the audio books are spectacular. I've been waiting for Before the Devil Breaks You for what seems like ages, and I'm so excited that we've got a title and a cover for a fall release. It combines all of my favorite things: the 1920s, supernatural horror, a slow slow slow burn romance, and, in this third one, ghosts.
Last year I read everything Leigh Bardugo wrote (except for the ebook only short stories which I'm sure I'll get to this year), and this year she's got two coming out that I'm super excited to read. I don't know much about Wonder Woman, but I'm excited to read her WW novel. AND. The Language of Thorns is a collection of fairy tales from the Grisha universe!!
What are you looking forward to?