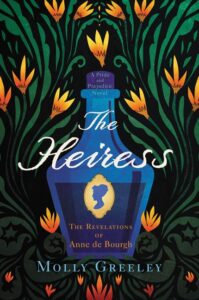 Title:

The Heiress: The Revelations of Anne de Bourgh

by Molly Greeley
Published by William Morrow
Published: January 5th 2021
Genres: Fiction, Historical
Pages: 368
Format: ARC
Source: Publisher, Work
Buy: Bookshop(afflilate link)
Goodreads


In this gorgeously written and spellbinding historical novel based on Pride and Prejudice, the author of The Clergyman's Wife combines the knowing eye of Jane Austen with the eroticism and Gothic intrigue of Sarah Waters to reimagine the life of the mysterious Anne de Bourgh.

As a fussy baby, Anne de Bourgh's doctor prescribed laudanum to quiet her, and now the young woman must take the opium-heavy tincture every day. Growing up sheltered and confined, removed from sunshine and fresh air, the pale and overly slender Anne grew up with few companions except her cousins, including Fitzwilliam Darcy. Throughout their childhoods, it was understood that Darcy and Anne would marry and combine their vast estates of Pemberley and Rosings. But Darcy does not love Anne or want her.

After her father dies unexpectedly, leaving her his vast fortune, Anne has a moment of clarity: what if her life of fragility and illness isn't truly real? What if she could free herself from the medicine that clouds her sharp mind and leaves her body weak and lethargic? Might there be a better life without the medicine she has been told she cannot live without?

In a frenzy of desperation, Anne discards her laudanum and flees to the London home of her cousin, Colonel John Fitzwilliam, who helps her through her painful recovery. Yet once she returns to health, new challenges await. Shy and utterly inexperienced, the wealthy heiress must forge a new identity for herself, learning to navigate a "season" in society and the complexities of love and passion. The once wan, passive Anne gives way to a braver woman with a keen edge—leading to a powerful reckoning with the domineering mother determined to control Anne's fortune . . . and her life.
An extraordinary tale of one woman's liberation, The Heiress reveals both the darkness and light in Austen's world, with wit, sensuality, and a deeply compassionate understanding of the human heart.
I love books that reimagine classic works, especially adding onto the Jane Austen world, and Molly Greeley's
The Heiress
explores the life of Anne de Bourgh during and after the events of
Pride and
Prejudice
. This a slower historical fiction novel that explores Anne's coming of age, and her realization that without Darcy's hand in marriage her place in the world falls apart and because of that she takes steps to overcome her parents' abuse and her reliance on laudanum. As an heiress, Anne's "appropriate" life choices included getting married to advance her status, but Anne takes back the agency of her life and truly seems to bloom.
Even though this is a slower paced novel, it's so rewarding and a joy to read. The historical details are lush and vivid, and I felt completely immersed in Anne de Bourgh's world. The characters of Pride and Prejudice make small appearances, and I loved seeing their place in Anne's story after Darcy marries Elizabeth. The romance in the book is sapphic and well-placed, I thought. It's not a historical romance, but romance for Anne plays a big part in her own liberation.
Anything else I could say about this might be a spoiler, so definitely check this one out! I thought the entire story, including the ending, was satisfying and added so much to Anne's story who has no speaking lines in the entirety of Austen's book.
I grabbed this off the ARC shelf at work, and many compliments to William Morrow for sending it to the store!