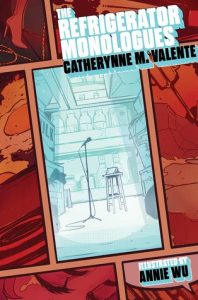 Title:

The Refrigerator Monologues

by Catherynne M. Valente, Annie Wu
Published by Saga Press
Published: June 6th 2017
Genres: Science Fiction
Pages: 160
Format: Hardcover
Source: Purchased
Goodreads


The lives of six female superheroes and the girlfriends of superheroes. A ferocious riff on women in superhero comics.

A series of linked stories from the points of view of the wives and girlfriends of superheroes, female heroes, and anyone who's ever been "refrigerated": comic book women who are killed, raped, brainwashed, driven mad, disabled, or had their powers taken so that a male superhero's storyline will progress.
Catherynne M. Valente's
The Refrigerator Monologues
is series of six loosely connected stories about female superheroes or the girlfriends of superheroes that are loosely based off of well-known characters in the Marvel and DC universes. The book is dedicated to Gail Simone, a female comic book writer fired from
Batgirl
who eventually created the "
Women in Refrigerators
" website in 1999. The website chronicles a lot of ways in which female characters are "fridged," either "depowered, raped, or cut up and stuck in the refrigerator."
Each of the stories are set in Deadtown, the place comic book characters go after they die, and the characters in these six stories form "The Hell Hath Club," which sets the frame story to connect each of these character's individual stories. I loved that Deadtown provided that frame because it tied everything together so well. Each of the characters voices felt fresh yet identifiable with known characters in the Marvel and DC universes. I think my favorite stories out of the collection are "Paige Embry," based off of Spider-Man's Gwen Stacy and "Daisy," based off of Deadpool's Karen Page.
The stories contribute to the conversation about the treatment of women in comic books and in the media in general, and if you love comic books and superheroes and the women featured in these stories, you definitely need to read this book.