It's time for another little list of reviews! This time I'm focusing on some short fiction that I've read recently, from a classic, to science fiction, to a modern fairy tale.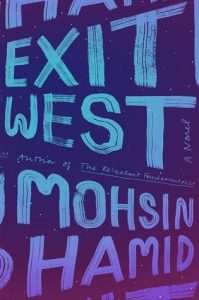 Title:

Exit West

by Mohsin Hamid
Published by Riverhead
Published: March 7th 2017
Genres: Fiction
Pages: 231
Format: Hardcover
Source: Borrowed, Work
Goodreads


In a country teetering on the brink of civil war, two young people meet—sensual, fiercely independent Nadia and gentle, restrained Saeed. They embark on a furtive love affair and are soon cloistered in a premature intimacy by the unrest roiling their city. When it explodes, turning familiar streets into a patchwork of checkpoints and bomb blasts, they begin to hear whispers about doors—doors that can whisk people far away, if perilously and for a price. As the violence escalates, Nadia and Saeed decide that they no longer have a choice. Leaving their homeland and their old lives behind, they find a door and step through.

Exit West follows these characters as they emerge into an alien and uncertain future, struggling to hold on to each other, to their past, to the very sense of who they are. Profoundly intimate and powerfully inventive, it tells an unforgettable story of love, loyalty, and courage that is both completely of our time and for all time.
Exit West
seemed to be all over the place once it was released, and with everyone I knew talking about it and a lot of people at work buying it, I thought I should give it a go because it sounded timely and relevant to today. Mohsin Hamid's lyrical writing draws you into a world that ultimately you as a reader only catch glimpses of the heartache, the fear, and the love each of the two main characters experience for themselves and with each other. In a style that bends time and space to fit the journey, the two main characters escape what is a war-torn country in the Middle East, and we follow them as they make their way westward. It is all at once a tale that speaks of the plight and routes refugees take from Syria and other nearby places and a tale that speaks to the ultimately human journey to adulthood and discovering oneself. It is a story of discovering what it means to have an identity and of holding onto love when it's necessary and learning to let go when it's time to let go, no matter how unprepared you might be for the end.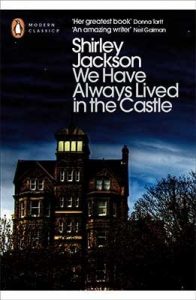 Title:

We Have Always Lived in the Castle

by Shirley Jackson
Published by Penguin Modern Classics
Published: October 1st 2009
Genres: Fiction
Pages: 158
Format: Trade Paper
Source: Purchased
Goodreads


We Have Always Lived in the Castle
is a Gothic novella about the Blackwood family home and the lengths Merricat, the youngest Blackwood, goes to in order to preserve their way of life. Throughout the book, you get the sort of foreboding feeling that something is not quite right about Merricat's behavior, especially when cousin Charles comes to visit, and while the story plays into a lot of the Gothic genre's tropes, it doesn't fail to thrill. It's an exacting commentary on the preservation of oneself and one's family in the midst of change, either in the house or in the world beyond. It asks the question 
what does identity mean
? The meaning of identity is not generally answerable in itself but in the implications and complications that arise in the midst of everything else. Why else would Merricat say she put "death in their food and watch them die?"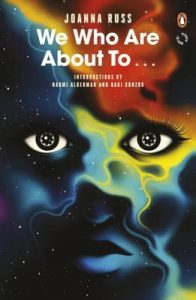 Title:

We Who Are About To...

by Joanna Russ
Published by Penguin
Published: January 1st 1970
Genres: Science Fiction
Pages: 128
Format: Trade Paper
Source: Purchased
Goodreads


When I saw the covers of the Penguin Worlds science fiction classics collection, I knew I had to get them all. Not only for the covers but for the selections as well. One of my areas of research is science fiction because I feel like it's an underrepresented genre in the grand scheme of the great literary canon, and Joanna Russ's 
We Who Are About To…
is a masterful novella about the agency a woman has, doesn't have, and should have over her own body. Instead of conforming to the little civilization her companions decide to form in the wake of a spaceship crashing on a relatively unknown planet, the narrator decides to learn how to die when all hope is lost. Reading this book today feels very trope-y and cliché at times, but it's important to put this in the context of the genre today. It plays with those tropes, gives a woman agency over her own life instead of submitting her body to be a vessel for reproduction, and shows us the very humanity in deciding on whether or not to live or die when you know there's ultimately no hope for rescue or survival anyway.