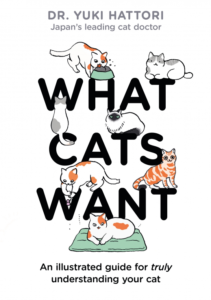 Title: What Cats Want: An Illustrated Guide for Truly Understanding Your Cat by Dr. Yuki Hattori
Published by Bloomsbury Publishing
Published: October 27th 2020
Genres: Non-Fiction
Pages: 160
Format: ARC
Source: Netgalley
Buy: Bookshop(afflilate link)
Goodreads


From the top feline doctor in Japan comes a fun, practical, adorably illustrated "cat-to-human" translation guide to decoding your cat's feelings.

When your cat's tail is upright, she's saying hello. If it's quivering? She's happy to see you. But if it swishes ominously from side to side across your living room floor? Beware-your cat is annoyed.

With nineteen bones and twelve muscles, cats' tails have countless ways of expressing their emotions. What Cats Want is here to uncover the meaning behind every movement, and the motivation beneath every quirk. Did you know, for example, that adult cats love to reconnect with their inner kitten? Or that cats prefer multiple watering holes over just one? Our cats are sophisticated-no matter what any dog lover says-and What Cats Want has the answers to every question asked by cat owners young and old.

An invaluable new guide filled with creative tips and darling illustrations, What Cats Want provides a much-desired glimpse into the minds of our most mysterious pets.
Written by a top Japanese cat veterinarian Dr. Yuki Hattori, What Cats Want is an adorable guide to raising and caring for your cat. This an especially great introductory guide to new cat owners as it breaks down a lot of facts clearly and informatively, and it has a lot of good reference information about cat health and cat behavior for people who have had cats for pets for years. It's fun, informative, and accessible. I hadn't expected to read it in one sitting but I did, and I found myself learning a few things as well!

The illustrations alone make the book worth a look through, and I'm looking forward to purchasing my own physical copy once the book releases in October! The illustrator captures cat behavior, moods, and emotions <I>perfectly</i>, and I found myself recognizing several of the cats in my life in the pages. I especially loved the illustrations of cat moods, cat meows, and cat body language!

One thing I kept thinking while reading it was that this would make a perfect gift for new cat parents or longtime cat parents.

Thank you to Bloomsbury Publishing and Netgalley for an advance digital review copy! All opinions are my own.