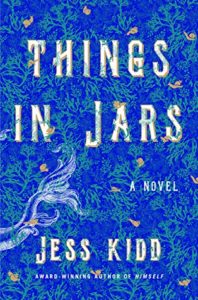 Title:

Things in Jars

by Jess Kidd
Published by Atria Books
Published: February 4, 2020
Genres: Fiction, Historical
Pages: 373
Format: ARC
Source: Publisher
Goodreads


In the dark underbelly of Victorian London, a formidable female sleuth is pulled into the macabre world of fanatical anatomists and crooked surgeons while investigating the kidnapping of an extraordinary child in this gothic mystery—perfect for fans of The Essex Serpent and The Book of Speculation.

Bridie Devine—female detective extraordinaire—is confronted with the most baffling puzzle yet: the kidnapping of Christabel Berwick, secret daughter of Sir Edmund Athelstan Berwick, and a peculiar child whose reputed supernatural powers have captured the unwanted attention of collectors trading curiosities in this age of discovery.

Winding her way through the labyrinthine, sooty streets of Victorian London, Bridie won't rest until she finds the young girl, even if it means unearthing a past that she'd rather keep buried. Luckily, her search is aided by an enchanting cast of characters, including a seven-foot tall housemaid; a melancholic, tattoo-covered ghost; and an avuncular apothecary. But secrets abound in this foggy underworld where spectacle is king and nothing is quite what it seems.

Blending darkness and light, history and folklore, Things in Jars is a spellbinding Gothic mystery that collapses the boundary between fact and fairy tale to stunning effect and explores what it means to be human in inhumane times.
Here is time held in suspension. Yesterday pickled. Eternity in a jar.
I love a good disturbing, yet still whimsical, historical fiction mystery. Jess Kidd's Things in Jars is set in the Victorian era, but right away, you notice that something is different. With elements of fairy tales and the obscure, I felt that this world was both familiar and unfamiliar, and I wanted to know more about it. The novel focuses on Bridie Devine, a detective, who is commissioned to find the whereabouts of a strange young girl named Christobel who is not an ordinary child. With the assistance of her extraordinarily tall lady's maid Cora and a ghost of a prizefighter Ruby, Bridie goes on a trek through the seedy, dirty parts of London to discover the history and whereabouts of Christobel and to discover more about herself.
The narrative shifts back and forth from Bridie's current time and Bridie's past interweaving to give us a glimpse of the person she was and how she became the person she is in her present day. Sometimes these narrative shifts can be jarring, but these were seamless, illuminating the current day's dilemmas and mysteries with the past's introspection and revelation. The world building was exquisitely described. There were times I felt like I was right there as invisible eyes watching everything unfold. The characters were so fascinating and multifaceted that I wanted to learn more about them in more books, especially Cora. She was such a fantastic character to me at seven feet tall and truly herself. And I was left completely heartbroken at the end with Ruby and his final words to Bridie. I'm not giving anything away, because it's such a perfect ending for this story, closing off bits and pieces, and opening up the door to more, making me hope for future installments in this world, however they might come along.
If you're in the mood for a good, dark, entertaining historical mystery, do look into this one. It was one of my favorite reads in January!
Thank you to Atria Books for a gifted ARC! All opinions are my own.