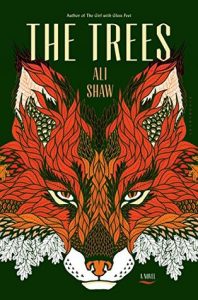 Title:

The Trees

by Ali Shaw
Published by Bloomsbury USA
Published: August 2nd 2016
Genres: Fiction
Pages: 496
Format: eBook
Source: Netgalley
Goodreads


The Trees. They arrived in the night: wrenching through the ground, thundering up into the air, and turning Adrien's suburban street into a shadowy forest. Shocked by the sight but determined to get some answers, he ventures out, passing destroyed buildings, felled power lines, and broken bodies still wrapped in tattered bed linens hanging from branches.
It is soon apparent that no help is coming and that these trees, which seem the work of centuries rather than hours, span far beyond the town. As far, perhaps, as the coast, where across the sea in Ireland, Adrien's wife is away on a business trip and there is no way of knowing whether she is alive or dead.
When Adrien meets Hannah, a woman who, unlike him, believes that the coming of the trees may signal renewal rather than destruction and Seb, her technology-obsessed son, they persuade him to join them. Together, they pack up what remains of the lives they once had and set out on a quest to find Hannah's forester brother and Adrien's wife--and to discover just how deep the forest goes.
Their journey through the trees will take them into unimaginable territory: to a place of terrible beauty and violence, of deadly enemies and unexpected allies, to the dark heart of nature and the darkness--and also the power--inside themselves.
The world ends not with a bang but with a 
whisper
.
Ali Shaw's The Trees begins when overnight trees shoot up from the ground, destroying life as everyone knew it. I feel like I've been reading a lot of post-apocalyptic books lately, but this is the most natural. No one knows where the trees come from. Are they from Mother Nature? Alien? This isn't a novel about where a destructive force comes from; it's a novel about how certain people react and survive in the aftermath of something so unexplainable. And the people who survive are not your typical "heroes."
This is a novel about nature's cruelty, but also a novel about nature's grace. The real survivors are the apt ones as they're the ones fit to adapt. Our "hero" of the story is someone who's introverted, unsure of himself and his place in the world, and overthinks everything. And who/what he becomes in the end was incredibly magical to me. It's a reminder that everyone has a place and a purpose, and it doesn't have to be overt, extroverted, and loud.
It's a long book, but it's well-paced and never seems to drag. I almost wish there was more. It's a blend of post-apocalyptic horror, fairy tales, and magical realism. It's brutal in a natural way, and if you're disturbed by descriptions of violence toward people and animals, this book isn't for you. But if you're intrigued by a different sort of post-apocalypse in which nature takes back the Earth from its parasitic human population, read this. It'll give you chills.
Thanks to Netgalley for a review copy!