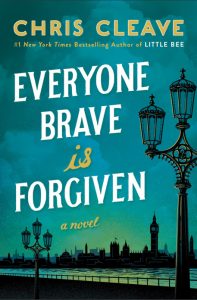 Title:

Everyone Brave is Forgiven

by Chris Cleave
Published by Simon & Schuster
Published: May 3rd 2016
Genres: Fiction
Pages: 418
Format: eBook
Source: Netgalley
Goodreads


From the author of the #1 New York Times bestselling Little Bee, a spellbinding novel about three unforgettable individuals thrown together by war, love, and their search for belonging in the ever-changing landscape of WWII London.
It's 1939 and Mary, a young socialite, is determined to shock her blueblood political family by volunteering for the war effort. She is assigned as a teacher to children who were evacuated from London and have been rejected by the countryside because they are infirm, mentally disabled, or—like Mary's favorite student, Zachary—have colored skin.
Tom, an education administrator, is distraught when his best friend, Alastair, enlists. Alastair, an art restorer, has always seemed far removed from the violent life to which he has now condemned himself. But Tom finds distraction in Mary, first as her employer and then as their relationship quickly develops in the emotionally charged times. When Mary meets Alastair, the three are drawn into a tragic love triangle and—while war escalates and bombs begin falling around them—further into a new world unlike any they've ever known.
A sweeping epic with the kind of unforgettable characters, cultural insights, and indelible scenes that made Little Bee so incredible, Chris Cleave's latest novel explores the disenfranchised, the bereaved, the elite, the embattled. Everyone Brave Is Forgiven is a heartbreakingly beautiful story of love, loss, and incredible courage.
War was declared at 11:15, and Mary North signed up at noon.
Chris Cleave's Everyone Brave is Forgiven is a wonderful, heartbreaking novel about the people who find themselves at the beginning of and in the midst of a brutal world war. This novel brings the reader to the front and center of the lives of Londoners at the beginning of WWII, and the reader is able to experience how the war affected people both on the home front and at the war front.
Mary North, a young London socialite, is determined to make a difference in her life and in the lives of others, and she volunteers her services to the war effort. She is assigned to be a teacher to children who have been evacuated from London. There she meets Tom, her employer and future lover, and learns about Alastair, Tom's friend who has enlisted and about whom Tom is distraught.
There's bravery on the war front, with men and women facing dangers not seen before, but there is also bravery on the home front, fighting class and racial prejudices. It's a deft combination of all sorts of bravery and how it affects each of the characters while each are dealing with feelings of longing, belonging, loyalty, and love.
If you've read Doerr's All the Light You Cannot See and Hannah's The Nightingale and want more to read in a similar vein, this one comes highly recommended.
Thank you to Netgalley for a review copy!