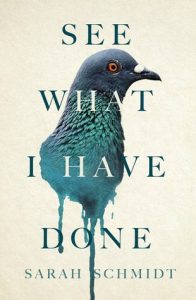 Title:

See What I Have Done

by Sarah Schmidt
Published by Atlantic Monthly Press
Published: August 1st 2017
Genres: Fiction, Historical
Pages: 328
Format: Hardcover
Source: Goodreads
Goodreads


In this riveting debut novel, See What I Have Done, Sarah Schmidt recasts one of the most fascinating murder cases of all time into an intimate story of a volatile household and a family devoid of love.

On the morning of August 4, 1892, Lizzie Borden calls out to her maid: Someone's killed Father. The brutal ax-murder of Andrew and Abby Borden in their home in Fall River, Massachusetts, leaves little evidence and many unanswered questions. While neighbors struggle to understand why anyone would want to harm the respected Bordens, those close to the family have a different tale to tell—of a father with an explosive temper; a spiteful stepmother; and two spinster sisters, with a bond even stronger than blood, desperate for their independence.

As the police search for clues, Emma comforts an increasingly distraught Lizzie whose memories of that morning flash in scattered fragments. Had she been in the barn or the pear arbor to escape the stifling heat of the house? When did she last speak to her stepmother? Were they really gone and would everything be better now? Shifting among the perspectives of the unreliable Lizzie, her older sister Emma, the housemaid Bridget, and the enigmatic stranger Benjamin, the events of that fateful day are slowly revealed through a high-wire feat of storytelling.
How many years does it take to grow into someone?
Sarah Schmidt's See What I Have Done is a strange and sometimes engaging reimagining of the famous Lizzie Borden murders. Told from alternating perspectives over the course of a few days, we are given insight into the minds of Lizzie and those involved in one way or another with the murders of Lizzie's father Andrew and stepmother Abby.
By the end, I enjoyed this book, but I felt the book suffered from two things: target market and a slow exposition/initial pacing. I understand that publishers want to reach a wide range of audiences with certain titles, but I felt like this one was YA as I was reading it because of the writing style. It took me about a good third or more of the book to feel really engaged with the characters and the story, and then it seemed to pick up and then I couldn't put it down. If you aren't much of a YA reader, this one might feel a bit simplistic in the way in which it's told. However, in some ways, I think that starkly simple language is what makes Lizzie's story effective, because if you're familiar with Lizzie Borden, you already know what's coming, and by the time it does, it's one of those chest-grabbing moments.
See What I Have Done explores in greater depth the relationships between Lizzie and the rest of her immediate household. At thirty-something, she still lives at home, unmarried, and behaves as if she is still a teenager with temper outbursts and juvenile outlooks on the world (which is where my "this feels like YA" comes from). It's apparent from the very beginning that something is off about Lizzie's mental state, and this disconnect between reality and what goes on in her mind adds to the Lizzie's relationship with her father is odd and unsettling. At times, her attention-seeking behavior appears as if she's a love-sick girl starving for the object of her affection's attentions, and other times it feels as if her behavior is that of a child wanting her father to pay attention to her. Lizzie's behavior toward and eventual murder of her father and stepmother stems from her deeply rooted jealousy toward her stepmother. As it happens in fairy tales, the stepmother "replaces" the dead mother, and to the main character, the stepmother is therefore "bad/evil," and for Lizzie, she is the displaced princess.
In a series of twists and turns, Sarah Schmidt delivers a chilling examination of what goes through the minds of those closely involved with Lizzie Borden and her forty whacks. While it takes a bit to warm up to it, See What I Have Done is a solid debut.
I won a copy of this book through Goodreads giveaways for review! All opinions are my own.