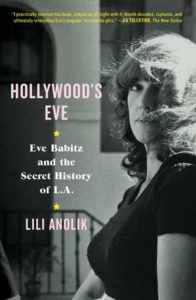 Title:

Hollywood's Eve: Eve Babitz and the Secret History of L.A.

by Lili Anolik
Published by Scribner
Published: January 8th 2019
Genres: Biography
Pages: 288
Format: Hardcover
Source: Publisher
Goodreads


Los Angeles in the 1960s and 70s was the pop culture capital of the world—a movie factory, a music factory, a dream factory. Eve Babitz was the ultimate factory girl, a pure product of LA.

The goddaughter of Igor Stravinsky and a graduate of Hollywood High, Babitz posed in 1963, at age twenty, playing chess with the French artist Marcel Duchamp. She was naked; he was not. The photograph, cheesecake with a Dadaist twist, made her an instant icon of art and sex. Babitz spent the rest of the decade rocking and rolling on the Sunset Strip, honing her notoriety. There were the album covers she designed: for Buffalo Springfield and the Byrds, to name but a few. There were the men she seduced: Jim Morrison, Ed Ruscha, Harrison Ford, to name but a very few.

Then, at nearly thirty, her It girl days numbered, Babitz was discovered—as a writer—by Joan Didion. She would go on to produce seven books, usually billed as novels or short story collections, always autobiographies and confessionals. Under-known and under-read during her career, she's since experienced a breakthrough. Now in her mid-seventies, she's on the cusp of literary stardom and recognition as an essential—as the essential—LA writer. Her prose achieves that American ideal: art that stays loose, maintains its cool, and is so sheerly enjoyable as to be mistaken for simple entertainment.

For Babitz, life was slow days, fast company until a freak fire in the 90s turned her into a recluse, living in a condo in West Hollywood, where Lili Anolik tracked her down in 2012. Anolik's elegant and provocative new book is equal parts biography and detective story. It is also on dangerously intimate terms with its subject: artist, writer, muse, and one-woman zeitgeist, Eve Babitz.
It seems like two summers ago, everyone on Bookstagram and on book Twitter was talking about Eve Babitz. The more I read about her from the people I followed, the more I wanted to know who she was through her writing. I purchased
Sex & Rage
in the fall of 2017 (and, shamefully, still haven't read it), and I bought
Eve's Hollywood
this past fall at Strand Bookstore in New York City while I was there visiting a friend. I read
Eve's Hollywood
from the end of November to December last year, and I simultaneously wanted to devour that book in a day and savor it over all time. I finally understood why everyone was talking about Eve Babitz (again).
Babitz is an enigma. She'll make you fall in love with her Los Angeles, and she'll make you fall in love with her, all while keeping you at an arm's length so you can't help but want to listen to everything she has to say. Lili Anolik's fascination with Eve Babitz, her life, and writing, turned into a Vanity Fair article that was later expanded into Hollywood's Eve. I read Anolik's Hollywood's Eve in a single sitting. I picked it up, read a few chapters, and did what I had to do for the day quickly so that I could spend the rest of my afternoon completely engrossed in Anolik's discovery, research, and eventual personal connection with Babitz.
I really enjoyed Anolik's emulation of Babitz's style, mixing in personal experience with the subject at hand. I find for certain biographies, this style works well, because a writer is able to add in personal anecdotes about people and places that would seem out of place in a more "formal" biography. I learned a lot about Hollywood in the 60s and 70s through Eve's Hollywood and Hollywood's Eve that I've not really seen or read discussed anywhere else — like the bits about the Didions and Harrison Ford. Sometimes for me, who has only recently begun to dive into the behind-the-scenes stories of a Hollywood that's gone, it's a little jaw-dropping to see so many well-known faces know having those connections back then. That knowledge adds so much depth to the writing and film I'll consume from that point forward, you know?
Eve Babitz is not often likeable, but she is an incredible observer and writer. I thoroughly enjoyed the small part Anolik included that contrasted Eve with her sister Mirandi because it added so much more understanding to Eve as a person. Over the years I've read a lot more about and by "difficult" women, women who sometimes behave in ways that men do and the men are praised for it (or have their actions conveniently brushed aside) while the women are villainized or shamed for it? And why? Because they're women? I'm still confronting that within myself and realizing the best thing I can do is listen, absorb, and pay attention. And maybe be more like Babitz myself.
Thank you to Scribner for sending me a copy of Hollywood's Eve to review! All opinions are my own.