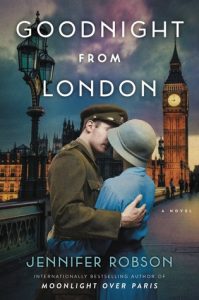 Title:

Goodnight from London

by Jennifer Robson
Published by William Morrow Paperbacks
Published: May 2nd 2017
Genres: Historical, Fiction
Pages: 400
Format: Trade Paper
Source: Book Sparks
Goodreads


From USA Today bestselling author Jennifer Robson—author of Moonlight Over Paris and Somewhere in France—comes a lush historical novel that tells the fascinating story of Ruby Sutton, an ambitious American journalist who moves to London in 1940 to report on the Second World War, and to start a new life an ocean away from her past.

In the summer of 1940, ambitious young American journalist Ruby Sutton gets her big break: the chance to report on the European war as a staff writer for Picture Weekly newsmagazine in London. She jumps at the chance, for it's an opportunity not only to prove herself, but also to start fresh in a city and country that know nothing of her humble origins. But life in besieged Britain tests Ruby in ways she never imagined.

Although most of Ruby's new colleagues welcome her, a few resent her presence, not only as an American but also as a woman. She is just beginning to find her feet, to feel at home in a country that is so familiar yet so foreign, when the bombs begin to fall.

As the nightly horror of the Blitz stretches unbroken into weeks and months, Ruby must set aside her determination to remain an objective observer. When she loses everything but her life, and must depend upon the kindness of strangers, she learns for the first time the depth and measure of true friendship—and what it is to love a man who is burdened by secrets that aren't his to share.

Goodnight from London, inspired in part by the wartime experiences of the author's own grandmother, is a captivating, heartfelt, and historically immersive story that readers are sure to embrace.
In
Goodnight From London
, Ruby Sutton is an American journalist who moves to London from New York in 1940 to report on the war as a staff writer for publications in both cities. In a series of vignettes, we see Ruby through her struggles and growth in her new job as a foreigner and as a woman. 
Goodnight From London
is a captivating story about a young woman finding her own ground in the midst of war.
Even though the novel was told in little glimpses of her every day life, I felt like I really connected with Ruby Sutton as she navigated her way through a foreign city besieged by war, raid sirens, air strikes, destruction, rationed food, and as she found a determined, resilient hope in the people she met. For me, one of the best parts about this book is the development of her work and personal relationships. None of them felt forced, and each of them felt genuine, especially for that era. Ruby is an orphan of sorts and never really knew what it was like to have people who cared for her, and in the midst of the terror that was WWII, finding people who had been through hell but still were able to show their humor, their love, and their friendship was such an eyeopener for Ruby. We see her adjust, sometimes awkwardly, to the generosity of those around her. As a reader, I wanted to see her succeed, to see her overcome her fears and reservations, and to fall in love with that mysterious Bennett.
While not as grim and heavy as some other WWII novels I have read, I enjoyed that the setting and the struggles felt realistic. Robson's writing style is effortless and crisp, and the writing made it clear that she has done her research. If you like historical fiction that isn't so heavy and dark and heroines you can root for, I think you'll enjoy reading Goodnight From London.
A copy of this book was sent to me for review by Book Sparks and the publisher. All opinions are my own.