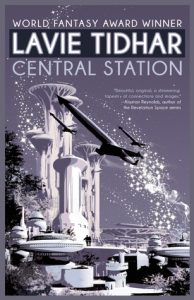 Title:

Central Station

by Lavie Tidhar
Published by Tachyon Publications
Published: May 10th 2016
Genres: Science Fiction
Pages: 240
Format: eBook
Source: Netgalley
Goodreads


Short story collections that contain stories that stand alone in their own right but intertwine with each other are my favorite sort of short story collections. This collection is a strong one as I found there wasn't a single story that I felt dragged or didn't quite mesh. The characters are so diverse, the setting is so foreign yet in some way instantly recognizable. Even though it's set in a futurisitic, post-singularity Tel Aviv, the stories evoke a feeling as if it's really a central station and that we're all still connected here on this planet.
I loved the Jewish robots, the Strigoi named Carmel (she's probably my favorite character. The idea of data vampirism is amazing), and all of the other vibrantly realized characters sprinkled throughout the stories.
This is a solid collection of science fiction stories that isn't just about science fiction. It's about what one must do and how one must survive in a universe that is often too unforgiving. It's not a plot-heavy set of stories, but it's one that will make you care at least a little bit about all of the characters between the covers.
If you enjoyed Anthony Marra's The Tsar of Love and Techno and would enjoy something similar with a definite science fiction twist, I think you'll enjoy this collection.
Thanks to Netgalley for a review copy!