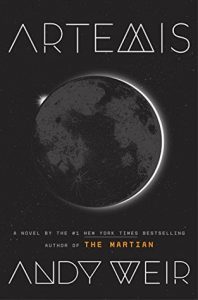 Title:

Artemis

by Andy Weir
Published by Crown Publishing
Published: November 14th 2017
Genres: Science Fiction
Pages: 384
Format: eBook
Source: Netgalley
Goodreads


Jazz Bashara is a criminal.

Well, sort of. Life on Artemis, the first and only city on the moon, is tough if you're not a rich tourist or an eccentric billionaire. So smuggling in the occasional harmless bit of contraband barely counts, right? Not when you've got debts to pay and your job as a porter barely covers the rent.

Everything changes when Jazz sees the chance to commit the perfect crime, with a reward too lucrative to turn down. But pulling off the impossible is just the start of her problems, as she learns that she's stepped square into a conspiracy for control of Artemis itself—and that now, her only chance at survival lies in a gambit even riskier than the first.
I'm really torn on this review, because a lot of
Artemis
 fell flat to me to the point where I wasn't enjoying reading it sometimes. I flew through
The Martian
. I 
loved
Mark Watney as a character. He was funny, flawed, and real. I felt connected with his perilous stranding on Mars, I rooted for his success, and I felt whatever emotions Watney felt during his highs and lows and in-betweens. 
The Martian
, for me, is a solid, traditional science fiction story. 
Artemis
felt, at times, like an experiment with how many boxes can I check off, how many science-y things can I put my characters through, and how many near-death experiences can I put Jazz through…
Jazz Bashara is a twenty-six year old Arabic woman who is incredibly talented at science-ing her way through life and smuggling stuff. I liked that she was Arabic, and I liked some of the references to her heritage, but some of her heritage seemed superficial and not relative to her character at all. I kept thinking she was in her teens by the way she spoke about herself and everyone else around her. Some of her most cringe-worthy lines sounded like she was a girl trying to impress a lot of boys with her cool-girl attitude with the "Oh, I made a double-entendre, get your mind out of the gutter" sort of humor.
Jazz's type of humor and attitude toward life would be more believable for me if she had a foil, a character who contrasts with her to highlight her nuances, maybe a best friend who is incredibly feminine, but there isn't one. For all the touting of diversity and what-not, Jazz is really the only female character in the book (aside from someone at the end, but this other character really only acts as a plot device). The other main characters in the book are the stereotypical geek who doesn't know how to talk to women, the tough-love grunt, and the boyfriend-stealing charming gay guy.
The conspiracy behind the heist isn't entirely believable to me, so the action and the science needed to resolve the arising problems ultimately fell flat. And, minor spoilers, but. Am I really supposed to believe that whoever designed Artemis didn't have backup plans in case the entire colony got flooded with some awful unbreathable stuff? That's just bad science. Any good developer/engineer/architect would probably consider this possibility, and I find it difficult to believe that this scenario didn't pop up in the theoretical models during planning.
What we were promised in Artemis: a high-octane heist, bad-ass female main character, diverse cast of characters, humor, science, moon stuff. What we got: a sorta cool heist, one stereotypical female main character, a cast of stereotypically diverse characters, humor, science, moon stuff.
Overall, Artemis is a pretty fun, fast read. Aside from those issues I wrote about above, Weir's writing style makes it difficult to put the book down once the action really gets going. I really enjoyed the concept of colonies on the moon and the details Weir interjects into the concepts and science of moon colonies. This will be one that a lot of people will be divided about in its reception, but it's a decent follow-up to his first.
Thank you to Netgalley and Crown Publishing for an ARC; all opinions are my own.