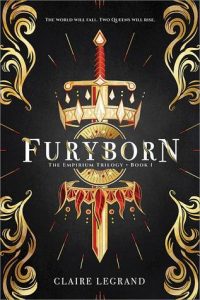 Title:

Furyborn

by Claire Legrand
Series: The Empirium Trilogy #1
Published by Sourcebooks Fire
Published: May 22nd 2018
Genres: Fantasy, Young Adult
Pages: 512
Format: eBook
Source: Netgalley, Publisher
Goodreads


Follows two fiercely independent young women, centuries apart, who hold the power to save their world...or doom it.

When assassins ambush her best friend, the crown prince, Rielle Dardenne risks everything to save him, exposing her ability to perform all seven kinds of elemental magic. The only people who should possess this extraordinary power are a pair of prophesied queens: a queen of light and salvation and a queen of blood and destruction. To prove she is the Sun Queen, Rielle must endure seven trials to test her magic. If she fails, she will be executed...unless the trials kill her first.

A thousand years later, the legend of Queen Rielle is a mere fairy tale to bounty hunter Eliana Ferracora. When the Undying Empire conquered her kingdom, she embraced violence to keep her family alive. Now, she believes herself untouchable--until her mother vanishes without a trace, along with countless other women in their city. To find her, Eliana joins a rebel captain on a dangerous mission and discovers that the evil at the heart of the empire is more terrible than she ever imagined.

As Rielle and Eliana fight in a cosmic war that spans millennia, their stories intersect, and the shocking connections between them ultimately determine the fate of their world--and of each other.
I think Claire Legrand's 
Furyborn
is going to be one of the biggest YA fantasy books of the summer. It's full of magic, strong-willed young women, and nearly impossible challenges for each of them to overcome. The two main characters are connected to each other (and no spoilers!), but each of them live over a thousand years apart. For me, the idea behind this series is exciting, but I found that the execution of it is a little overwhelming. Connecting two characters across a span of a thousand years brings together two completely different stories told in alternating chapters.
Legend has it that two queens will possess extraordinary power. The Blood Queen will bring catastrophe and destruction to her reign; the Sun Queen will bring light and and salvation to her reign. Rielle, the prophesied powerful queen of a thousand years ago, is merely a legend to the bounty hunter Eliana. However, Eliana knows that she possesses extraordinary powers and struggles to keep her powers a secret from everyone else.
The things I loved most about this and hope will be explored more in the future books are the magic system and the history of what happened between Rielle and Eliana. I thought the initial world-building of the magic system and country engaging; I just wanted more! Rielle and Eliana are fairly well-developed, though sometimes I felt that their voices sounded too similar and had to remember which chapter I was reading (but considering their connection, I shouldn't have been so thrown off by this!). The secondary characters really added to this story. I loved Simon and Ludivine the most, and loved the twists and connections they brought to the story.
Overall, this is an ambitious fantasy novel that will appeal to fans of Sarah J. Maas and Erika Johansen! I gave it four stars for the pacing and the scope, but it's almost a little too much. I think maybe this could have worked better if two books of the trilogy focused each Rielle and Eliana separately and the final book bringing their stories together, because this novel felt like a very long and divided set-up for the rest of the series.
A copy of this book was provided for review by Netgalley and Sourcebooks Fire; all opinions are my own.