Here's another little list of reviews! There isn't a theme to this list this time, but they're all books that I've been reading on and off for a long time that I've finally finished!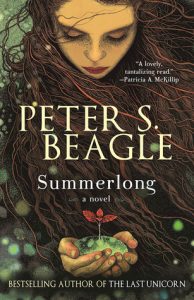 Title:

Summerlong

by Peter S. Beagle
Published by Tachyon Publications
Published: September 6th 2016
Genres: Fantasy
Pages: 240
Format: eBook
Source: Netgalley
Goodreads


Beloved author Peter S. Beagle (The Last Unicorn) returns with this long-anticipated new novel, a beautifully bittersweet tale of passion, enchantment, and the nature of fate.
It was a typically unpleasant Puget Sound winter before the arrival of Lioness Lazos. An enigmatic young waitress with strange abilities, when the lovely Lioness comes to Gardner Island even the weather takes notice.
As an impossibly beautiful spring leads into a perfect summer, Lioness is drawn to a complicated family. She is taken in by two disenchanted lovers—dynamic Joanna Delvecchio and scholarly Abe Aronson — visited by Joanna's previously unlucky-in-love daughter, Lily. With Lioness in their lives, they are suddenly compelled to explore their deepest dreams and desires.
Lioness grows more captivating as the days grow longer. Her new family thrives, even as they may be growing apart. But lingering in Lioness's past is a dark secret — and even summer days must pass.
Peter S. Beagle can spin a fantastic, beautiful phrase, and I'm looking forward to reading more of his work (can you believe I've never read 
The Last Unicorn??
). However, 
Summerlong
didn't do it for me. I feel like I might have approached this book differently had I know about the mythological twist that reveals itself in the last third of the book, because without having known it, I felt that the fantastic elements of it led to a disconnect between the story that I had become familiar with and the story it ended up being. I don't recall reading anywhere about the ties to Greek mythology, so it was definitely a 
wait, what??
sort of moment. I think my lack of enjoyment of the story is completely on me, because I was expecting something more fantasy driven than the contemporary character driven story it is. I felt like I didn't relate to any of the characters, and it took a long time for me to get through a relatively short novel. If you enjoy stories about coming to life, as it were, after the summer of your life has passed, I think you'll find this novel right up your alley!
I received a review copy from Netgalley and Tachyon Pub; all opinions are my own.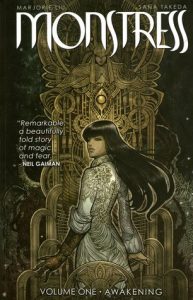 Title:

Monstress, Vol. 1: Awakening

by Marjorie M. Liu, Sana Takeda, Rus Wooton
Series: Monstress #1
Published by Image Comics
Published: July 19th 2016
Genres: Graphic Novel
Pages: 202
Format: Trade Paper
Source: Purchased
Goodreads


The illustrations in this are amazing and worth it just to peruse it for that, but I found the story incredibly complex and a little unforgiving to casual reading. Not every graphic novel needs to have the ability to just pick up and go, but this is something that will require rereading (either after a first read or while reading it [the latter of which is irritating to me because I really don't like having to backtrack through a short-form story to find clarity]), so maybe it's ultimately not the thing for me? The story did become clearer about halfway through once the pieces came together, and I think I'll read the next ones, but it's not on the priority list for me at the moment.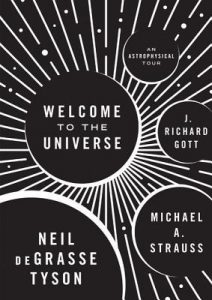 Title:

Welcome to the Universe: An Astrophysical Tour

by Neil deGrasse Tyson, Michael A Strauss, J. Richard Gott III
Published by Princeton University Press
Published: September 29th 2016
Genres: Science
Pages: 472
Format: Hardcover
Source: Borrowed
Goodreads


Some of this stuff went way over my head, but it was interesting! And definitely better read in sections as each chapter is essentially a lecture! I liked the structure of it, though. Each chapter built on the one before it, and while it was challenging at times to understand the concepts, I feel like each of the three author's thoroughly explained the concepts and their relativity (heh) to other concepts in the knowledge we have of our vast universe.