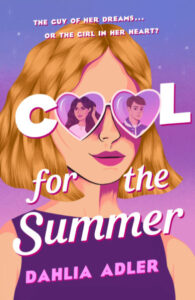 Title:

Cool for the Summer

by Dahlia Adler
Published by Wednesday Books
Published: May 11th 2021
Genres: Young Adult, Romance
Pages: 272
Format: ARC
Source: Netgalley, Publisher
Buy: Bookshop(afflilate link)
Goodreads


Lara's had eyes for exactly one person throughout her three years of high school: Chase Harding. He's tall, strong, sweet, a football star, and frankly, stupid hot. Oh, and he's talking to her now. On purpose and everything. Maybe...flirting, even? No, wait, he's definitely flirting, which is pretty much the sum of everything Lara's wanted out of life.

Except she's haunted by a memory. A memory of a confusing, romantic, strangely perfect summer spent with a girl named Jasmine. A memory that becomes a confusing, disorienting present when Jasmine herself walks through the front doors of the school to see Lara and Chase chatting it up in front of the lockers.

Lara has everything she ever wanted: a tight-knit group of friends, a job that borders on cool, and Chase, the boy of her literal dreams. But if she's finally got the guy, why can't she stop thinking about the girl?

Cool for the Summer is a story of self-discovery and new love. It's about the things we want and the things we need. And it's about the people who will let us be who we are.
 I don't read many contemporary YA romances, but the fact that this is a BI YA romance is what caught my attention.
Cool for the Summer
is utterly adorable, deftly handling what it means to be a teenage girl navigating the confusion surrounding her bisexuality. This is the kind of book I probably needed as a teenager, and I'm glad to have read it now.
The title comes from Demi Lovato's song which makes an appearance in the book, and I think it suits the theme of the book so well. I am also just a sucker for song title books. Cool for the Summer also felt a little like a classic summer teen movie, with a lot of nods to Grease. The connections Lara had with both Chase and Jasmine were real and believable, and as a reader, I didn't know which one she'd end up choosing in the end. Lara's forever crush Chase finally notices here the summer after Jasmine, and I loved the reflection Lara has when making her decision in the end. It felt so true, heartbreaking, and exhilarating all at once. I think the only thing that stuck out to me was the one who wasn't chosen's reaction once Lara made her decision. It felt like an easy acceptance, but in reality, I don't know if Lara would be let off the hook that easily or without more indepth explanation. Not that the person needed the explanation because it's ultimately Lara's choice, but for the reader it might have brought more closure and understanding.
Overall, this is a super cute book and one I wished I had when I was younger. If you're looking for a cute summery YA romance to read, definitely look into this one.
Thank you, Wednesday Books for the ARC! All opinions are my own.