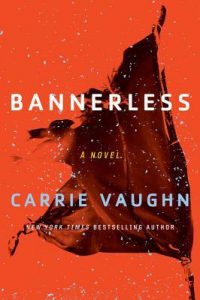 Title:

Bannerless

by Carrie Vaughn
Series: Bannerless Saga #1
Published by Mariner Books
Published: July 11th 2017
Genres: Science Fiction, Mystery
Pages: 352
Format: eBook
Source: Netgalley
Goodreads


What happens when you mix a post-apocalyptic dystopian with a bit of detective fiction? You'll get Carrie Vaughn's 
Bannerless
. I really enjoy traditional, structural genre stories mixed with a fantastic setting, and this one didn't disappoint. 
Bannerless
takes place about a hundred years after a series of events destroy society. It's a little like taking a peek into our future if we aren't careful about our relationships with other countries and if we aren't careful with our planet. Instead of being
another 
post-apocalyptic dystopian novel, Vaughn uses this vision of the future as a twist in her traditional mystery and that twist adds a dimension to the story that I found really enjoyable.
In this futuristic world, the population has dwindled, birth control is mandatory, and people live in tight-knit communities in which everyone knows everyone else's business. People group together in family units called houses, and they work together to provide enough materials for themselves and for their families, and once their quotas are met or consistently exceeded, these families can apply to get a banner which allows that household to have a baby.
Enid of Haven is an Investigator, a role that combines the roles of police, detective, and judge. Crime doesn't really exist in this future world, and most of it ends up being bannerless pregnancies or unauthorized food and material production to try to game the system. She is called up with her partner to investigate a suspicious death of a bannerless person in a neighboring community, and she is forced to confront someone with her past as she and her partner Tomas figure out the mystery. I also really enjoyed Enid's self-discovery as she investigates the suspicious death. She goes from being a little insecure of herself as an individual to growing more and more confident in herself, and to me, that's entirely relatable. Told in alternating chapters of Enid's past and present, Bannerless explores a future in which our very society is regulated on the local level and how our actions, even with good intentions, can be devastating for entire families.
If you enjoy traditional mysteries, dystopian futures as imagined in books like Station Eleven, and speculative fiction, you'll probably enjoy this one! It's short, yet well-crafted and well-paced. And I've just read she's working on another post-apocalyptic murder mystery, so I'm hoping that the next one will continue following Enid's investigations!
This book was provided to me for review by Netgalley and Mariner Books. All opinions are my own.