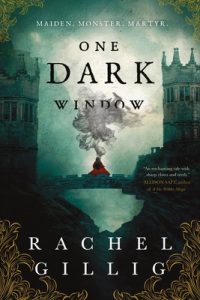 Title:

One Dark Window

by Rachel Gillig
Series: The Shepherd King #1
Published by Orbit
Published: September 27, 2022
Genres: Fantasy
Pages: 396
Format: Trade Paper
Source: Purchased
Buy: Bookshop(afflilate link)
Goodreads


Elspeth needs a monster. The monster might be her.

Elspeth Spindle needs more than luck to stay safe in the eerie, mist-locked kingdom of Blunder—she needs a monster. She calls him the Nightmare, an ancient, mercurial spirit trapped in her head. He protects her. He keeps her secrets.

But nothing comes for free, especially magic.

When Elspeth meets a mysterious highwayman on the forest road, her life takes a drastic turn. Thrust into a world of shadow and deception, she joins a dangerous quest to cure Blunder from the dark magic infecting it. And the highwayman? He just so happens to be the King's nephew, Captain of the most dangerous men in Blunder…and guilty of high treason.

Together they must gather twelve Providence Cards—the keys to the cure. But as the stakes heighten and their undeniable attraction intensifies, Elspeth is forced to face her darkest secret yet: the Nightmare is slowly taking over her mind. And she might not be able to stop him.
Rachel Gillig's One Dark Window is a fantasy series opener of a kingdom in which a dark magic is spreading like an infection. Magic in this realm is facilitated by Providence Cards, in the vein of tarot cards, and the magic has a price. These Providence Cards were created by an ancient king with magic bestowed upon him by a primeval forest spirit, and this magic caused a rift with the spirit, who in turn cursed the realm with a foreboding mist that's eating away at the realm's lands and causing fevers in its people. 
In order to stop this mist, twelve of the cards are needed to break the curse and one of them is missing. Elspeth, the main character, had the fever as a child and was possessed by the Nightmare, and, as a result, she has powers she does not know how to control. 
I enjoyed the characters so much, especially the slow burn of a relationship between Elspeth and Ravyn and the banter between Elspeth and the Nightmare. The possession of the Nightmare in Elspeth reminded me a bit of Artemisa and the Revenant in Margaret Rogerson's Vespertine (which was a surprising read for me, and has fully marked Rogerson as one of my favorite YA fantasy writers). The use of the Providence Cards in a dark fantasy setting threw me back to the Gamecube game Lost Kingdoms in which a dark fog begins to consume a kingdom and the character uses magic cards to summon spirits and monsters. It's not a game many I know seem to remember, but it was one of my favorites that I rented several times over (I could never find a copy that was affordable to me at the time)!
This is a lush, dark fantasy debut that hints at what's to come while offering an engaging and romantic story that left me ready for the sequel!!