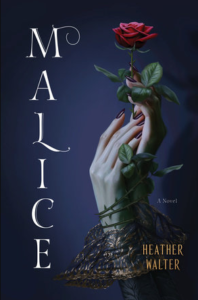 Title:

Malice

by Heather Walter
Series: Malice Duology #1
Published by Del Rey Books
Published: April 13th 2021
Genres: Fantasy
Pages: 470
Format: Hardcover
Source: Purchased
Buy: Bookshop(afflilate link)
Goodreads


A princess isn't supposed to fall for an evil sorceress. But in this darkly magical retelling of "Sleeping Beauty," true love is more than a simple fairy tale.

Once upon a time, there was a wicked fairy who, in an act of vengeance, cursed a line of princesses to die. A curse that could only be broken by true love's kiss.

You've heard this before, haven't you? The handsome prince. The happily-ever-after.

Utter nonsense.

Let me tell you, no one in Briar actually cares about what happens to its princesses. Not the way they care about their jewels and elaborate parties and charm-granting elixirs. I thought I didn't care, either.

Until I met her.

Princess Aurora. The last heir to Briar's throne. Kind. Gracious. The future queen her realm needs. One who isn't bothered that I am Alyce, the Dark Grace, abhorred and feared for the mysterious dark magic that runs in my veins. Humiliated and shamed by the same nobles who pay me to bottle hexes and then brand me a monster. Aurora says I should be proud of my gifts. That she . . . cares for me. Even though it was a power like mine that was responsible for her curse.

But with less than a year until that curse will kill her, any future I might see with Aurora is swiftly disintegrating—and she can't stand to kiss yet another insipid prince. I want to help her. If my power began her curse, perhaps it's what can lift it. Perhaps, together, we could forge a new world.

Nonsense again.

Because we all know how this story ends, don't we? Aurora is the beautiful princess. And I—

I am the villain.
Sleeping Beauty is probably one of my favorite fairy tales, especially when the tropes are explored and subverted, and the second I heard about
Malice
I knew I needed to read this. It was everything I hoped for!
Malice deftly weaves the familiar and the new, setting up the familiar Sleeping Beauty tropes while fleshing out the fantasy world in which Alyce and Aurora live because the history, politics, and landscape add so much to the story. Alyce is a Dark Grace, assisting the palace and its courtiers with her skills, when she meets Aurora and her world begins to shift. Alyce's struggle with her true self and wanting to fit in add so much depth, and I loved that her identity scared even herself. It ties in so much with the feeling of being queer, that society tends to tell us we're wrong for being who we are or that it's evil. This is the first half of a duology, so there's a lot left to be discovered in Alyce's true self and how much of a villain she becomes later on, but I hope that it's explored more and that she learns more about her own history.
The romance between Alyce and Aurora is so layered, and I hope there's a lot more buildup and exploration of their romance in the second book. So much of this first one felt like an introduction to the world and these characters that the last third of the book felt rushed, so I hope the second one develops more specifically with the characters now that we have this world set up for us to explore. Aurora is nothing like what we often expect from Sleeping Beauty retellings – a quiet, almost simple girl who has one set of desires and nothing else – because this Aurora is feisty, willing to fight for what she believes in, and questions everything. She also surprises Alyce by saying that she wants to be just like her, something Alyce never thought she'd hear anyone say. The romance in this feels natural and right, never forced (though sometimes a little insta-love, but it is a fairy tale after all), and it's all I want out of a sapphic romance – fantasy with both fluff and depth.
Overall, I enjoyed this so much, from the characters to the worldbuilding, and I'm looking forward to the sequel and anything else Walter releases in the future!