Welcome to another little list of reviews! I have a little backlog of reviews that I've been wanting to post, mostly for me since these are ones that I bought myself (and one free arc from my old job). They've been sitting as empty drafts since like… May, maybe, and it's time to get those written and move on so I can write about other things!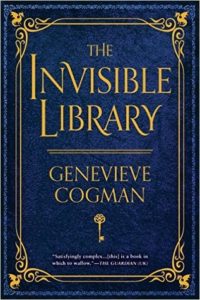 Title:

The Invisible Library

by Genevieve Cogman
Series: The Invisible Library #1
Published by Roc
Published: June 14th 2016
Genres: Fantasy
Pages: 341
Format: Trade Paper
Source: Purchased
Goodreads


Collecting books can be a dangerous prospect in this fun, time-traveling, fantasy adventure from a spectacular debut author. One thing any Librarian will tell you: the truth is much stranger than fiction... Irene is a professional spy for the mysterious Library, a shadowy organization that collects important works of fiction from all of the different realities. Most recently, she and her enigmatic assistant Kai have been sent to an alternative London. Their mission: Retrieve a particularly dangerous book. The problem: By the time they arrive, it's already been stolen. London's underground factions are prepared to fight to the death to find the tome before Irene and Kai do, a problem compounded by the fact that this world is chaos-infested—the laws of nature bent to allow supernatural creatures and unpredictable magic to run rampant. To make matters worse, Kai is hiding something—secrets that could be just as volatile as the chaos-filled world itself. Now Irene is caught in a puzzling web of deadly danger, conflicting clues, and sinister secret societies. And failure is not an option—because it isn't just Irene's reputation at stake, it's the nature of reality itself...

FEATURING BONUS MATERIAL: including an interview with the author, a legend from the Library, and more!
Genevieve Cogman's
The Invisible Library
is the first in a series of books that involves libraries, special books, and dragon-shifters. I loved the world-building and desperately wanted to become a Librarian while reading it, and this novel serves its purpose as a set-up for everything else because it was a lot more telling and description than it was character-development and depth. That doesn't deter me from wanting to continue the rest of the series (and I've got most of them, as far as I can recall), so I'm looking forward to seeing where the adventure goes next. I'm a little weird about steampunk as a genre because it can get confusing in its setup, depth, and exploration, but I thought Cogman's delivery and worldbuilding led to in-book plausibility and created a solid foundation.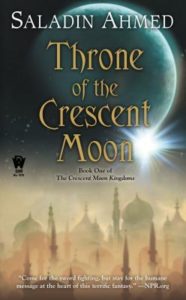 Title:

Throne of the Crescent Moon

by Saladin Ahmed
Series: The Crescent Moon Kingdoms #1
Published by DAW
Published: December 31st 2012
Genres: Fantasy
Pages: 367
Format: Mass Market
Source: Purchased
Goodreads


From Saladin Ahmed, finalist for the Nebula and Campbell Awards, comes one of the year's most acclaimed debuts: Throne of the Crescent Moon, a fantasy adventure with all the magic of The Arabian Nights.

The Crescent Moon Kingdoms, home to djenn and ghuls, holy warriors and heretics, are at the boiling point of a power struggle between the iron-fisted Khalif and the mysterious master thief known as the Falcon Prince. In the midst of this brewing rebellion a series of brutal supernatural murders strikes at the heart of the Kingdoms. But these killings are only the earliest signs of a plot for the Throne of the Crescent Moon that threatens to turn the great city of Dhamsawaat, and the world itself, into a blood-soaked ruin.
Saladin Ahmed's
The Crescent Moon
is one of the most engrossing fantasies I've read in a long time. The second I picked it up and started reading it, I fell in love with the atmosphere, the language, and the story. It sank deep into my soul, and I've not been able to stop thinking about it since I read it. I felt like I was right there in that world, standing just off to the side as everything unfolded. It features a ghul hunter, a magnificent shapeshifter, and a holy warrior dervish, and each of these characters felt so refreshing and 
real
that I forgot sometimes that this was pure fiction and not based off of something that had once happened once upon a time. But perhaps it did… If you're looking for something incredible and breathtaking, pick this one up. I do hope one day he'll continue on with the series, but this also functions as a completely perfect standalone.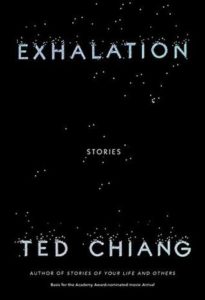 Title:

Exhalation

by Ted Chiang
Published by Alfred A. Knopf
Published: May 7th 2019
Genres: Science Fiction
Pages: 350
Format: ARC
Source: Work
Goodreads


alternate cover for this ISBN can be found here

The universe began as an enormous breath being held.

From the acclaimed author of Stories of Your Life and Others — the basis for the Academy Award-nominated film Arrival — comes a ground-breaking new collection of short fiction: nine stunningly original, provocative, and poignant stories. These are tales that tackle some of humanity's oldest questions along with new quandaries only Ted Chiang could imagine.

In "The Merchant and the Alchemist's Gate", a portal through time forces a fabric seller in ancient Baghdad to grapple with past mistakes and second chances. In "Exhalation", an alien scientist makes a shocking discovery with ramifications that are literally universal. In "Anxiety Is the Dizziness of Freedom" the ability to glimpse into alternate universes necessitates a radically new examination of the concepts of choice and free will.

Including stories being published for the first time as well as some of his rare and classic uncollected work, Exhalation is Ted Chiang at his best: profound, sympathetic — revelatory.

Contents:- The Merchant and the Alchemist's Gate (2007)- Exhalation (2008)- What's Expected of Us (2005)- The Lifecycle of Software Objects (2010)- Dacey's Patent Automatic Nanny (2011)- The Truth of Fact, the Truth of Feeling (2013)- The Great Silence (2015)- Omphalos (2018)- Anxiety Is the Dizziness of Freedom (2018)
I can't sing enough praises about Ted Chiang's writing. He's one of my all time favorites, and I was so excited to see his newest collection of stories on the arc shelf at my old job. These are mostly reprints, I believe, but each one is fantastic. There are very few writers who can like… make me straight up cry with the magic, scope, and depth of their writing, but this is a collection you'll not want to miss.