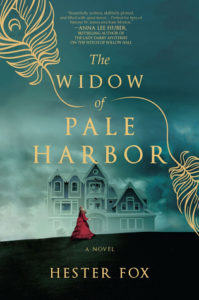 Title:

The Widow of Pale Harbor

by Hester Fox
Published by Graydon House
Published: September 17th 2019
Genres: Fiction, Romance
Pages: 352
Format: ARC
Source: Publisher
Goodreads


Maine, 1846. Gabriel Stone is desperate to escape the ghosts that haunt him in Massachusetts after his wife's death, so he moves to Pale Harbor, Maine, where there is a vacancy for a new minister. Gabriel and his late wife had always dreamed of building their own church, and Pale Harbor is the perfect opportunity.

But not all is as it seems in the sleepy town of Pale Harbor. Strange, unsettling things have been happening, and the townspeople know that only one person can be responsible: Sophronia Carver, a widow who lives with a spinster maid in the decaying Castle Carver on the edge of town. Sophronia is a recluse, rumored to be a witch who killed her husband.

When Gabriel meets her, he knows the charming, beautiful woman cannot be guilty of anything. Together, Gabriel and Sophronia realize that the mysterious events have one thing in common: they all contain an element from the wildly popular stories of Mr. Edgar Allan Poe. And when the events escalate to murder, Gabriel and Sophronia must find the real killer, before it's too late for them both.
The Widow of Pale Harbor
is an atmospheric historical romance with ties to Edgar Allan Poe's writing that kept me gripped from beginning to end. Sophronia Carver lives in Pale Harbor, Main, and must come to terms with accusations of witchcraft, murder, and unsettling incidents that keep happening to her and to her immediate surroundings. Gabriel Stone arrives to the sleep coastal town to fill the vacant minister's position, but from what in his past is he running?
As the incidents begin to escalate, Sophronia and Gabriel realize that these incidents are the work of a twisted individual. Once they realize that the incidents are inspired by the works of Edgar Allan Poe, they must discover who is behind it all or risk being the next victims of a gruesome attack. In the midst of all of this, Sophronia and Gabriel realize that their attraction toward each other is undeniable, but parts of their respective pasts are holding them back. Gabriel accepted the position in Pale Harbor as a testament to his dead wife, even though he has little care for Transcendentalism or preaching in general. Sophronia must reconcile her past, the accusations of murder thrown toward her, and her limited freedoms before opening up her heart to someone else.
I love the Gothic as a genre. It's claustrophobic, evoking a sense of dread and wonder at the same time, and delightfully creepy. I love the visuals of a woman scorned in some way standing on a moor overlooking her estate in contemplation, and The Widow of Pale Harbor satisfies every one of those want and hopes I had when I learned about Hester Fox's second novel. This is a worthy sophomore work, and it's definitely one to check out if you're interested in Gothic-style fiction, mysteries, and Transcendental America. Fox wove all of this into a compelling and complex narrative with all sorts of delightful and macabre twists, and it's one of my favorite reads of the year.
Thank you to Graydon House/Harlequin for sending me an advance reader's copy to include in a promotional book tour! All opinions are my own.