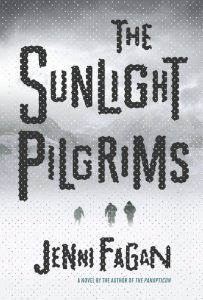 Title:

The Sunlight Pilgrims

by Jenni Fagan
Published by Hogarth
Published: July 19th 2016
Genres: Fiction
Pages: 288
Format: Hardcover
Source: Blogging for Books
Goodreads


You can drink light right down into your chromosomes, then in the darkest minutes of winter, when there is a total absence of it, you will glow and glow and glow.
It's 2020 in Scotland, and the world's freezing over. Jenni Fagan's The Sunlight Pilgrims is an end-of-the-world novel, but it's not a loud one. There are no explosions, no aliens taking over the planet, no rampant diseases. Just ice and snow and a chill that never seems to go away. It's a quiet exploration of family, death, life, and identity when the world as we all know it is ending.
The Sunlight Pilgrims will make you think about your family, and maybe other families too, and hopefully make you realize and every family has its problems. It will make you think about death a little bit and maybe the end of the world and what comes after. But mostly, this book will make you think of some event that led to your "coming of age." The event that made you cross that line from child to tiny adult, from tiny adult to actual adult. At the heart of it all, The Sunlight Pilgrims is a coming-of-age novel, and sometimes, some of us have several of those coming-of-age moments..
What I liked most about it is Stella. In the midst of the chaotic climate change, she is figuring out her identity and figuring out how to share it with the world without being constantly humiliated. Each of the characters are fully formed with an interesting backstory that links them all together, but I was really curious to see Stella's story developed, and Fagan raises key points about gender identity that I thought poignant and timely.
I read this in a day, mostly in a single sitting. I don't often get the chance to do that, and I don't often become so engrossed in a book that I want to do that. The Sunlight Pilgrims is a haunting, lyrical exploration of a family at the brink of change, for themselves and for the world.
Thank you to Blogging for Books for a review copy!