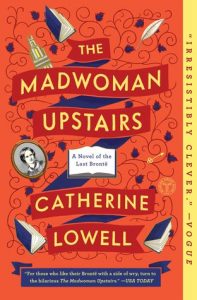 Title:

The Madwoman Upstairs

by Catherine Lowell
Published by Touchstone
Published: November 22nd 2016
Genres: Fiction
Pages: 368
Format: Trade Paper
Source: Publisher
Goodreads


This was not an office. It was a small library, two stories high, with thin ladders and impractical balconies and an expensive ceiling featuring a gaggle of naked Greeks. It was the sort of library you'd marry a man for.
Catherine Lowell's The Madwoman Upstairs has been on my radar for a while, and when BookSparks sent me a copy of this book and a lovely Penguin English Classics edition of Jane Eyre to celebrate Charlotte Brontë's birthday, I was super excited to finally read it. I mean, how could I not? It's about the last descendant of the Brontë family and the discoveries and revelations the main character has along the way.
The Madwoman Upstairs is literally a literary treat to me. In some ways, it reminded me of a light-hearted, quirky version of A.S. Byatt's Possession, and I adored reading it. The narrator has such a great voice, and I thought Lowell captured the voice of a young, headstrong, stubborn woman thrown headfirst into a world she has been trying to avoid since her father's death. But as it happens, it's entirely difficult to leave the past in the past, and inevitably it will come back to you.
Generally, when one thinks of the Brontë family, one might think of Charlotte or Emily before thinking of Anne, so I liked the twist of Anne being more of the focus of this treasure hunt Samantha Whipple goes on after receiving a strange little bookmark from her father's papers. The Madwoman Upstairs is very much a fun campus novel with twists of romantic comedy and literary intrigue, and it was an enjoyable read from start to finish!
I received a copy of this book from Book Sparks and the publisher for review. All opinions are my own.