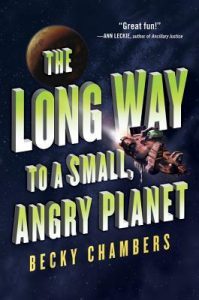 Title:

The Long Way to a Small, Angry Planet (Wayfarers, #1)

by Becky Chambers
Series: Wayfarers #1
Published by Harper Voyager
Published: July 5th 2016
Genres: Science Fiction
Pages: 443
Format: Trade Paper
Source: Purchased
Goodreads


Humans' preoccupation with 'being happy' was something he had never been able to figure out. No sapient could sustain happiness all of the time, just as no one could live permanently within anger, or boredom, or grief.
When she joins the crew of the Wayfarer, Rosemary Harper doesn't expect the motley crew of oddballs, but she comes to find that group of oddballs family and learns a lot about herself, about what makes a family, and about her place in life throughout the journey the Wayfarer takes throughout the course of the book.
I absolutely loved this book. It reminded me of Firefly and Star Trek (The Original Series), and it is such a happy science fiction book that made me giddy every time I opened it up to read more. It seems so rare that we have positive, happy, not-too-cynical science fiction that explores identity, gender, and existence. It's fun, campy, and smart, and more likely than not, you'll fly through this book and be left wanting more.
My only disappointments were that I felt that there were too many perspectives for so short a novel and that the characters didn't develop that much throughout the course of the novel, and that might be because of the wide cast of characters explored throughout. However, it is the first in a loosely connected series (or duology), so I'm looking forward to seeing Chambers' writing in her second book.
I've been recommending this to everyone, from die-hard sf fans to people who have rarely, if ever, dipped their toes in sf. It's a great addition to the genre – especially because we need more happy, hopeful sf books – and it's a great introduction to the genre.