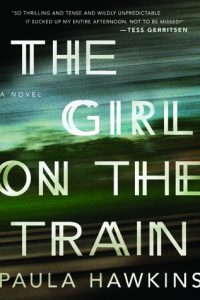 Title:

The Girl on the Train

by Paula Hawkins
Published by Riverhead Books
Published: January 13th 2015
Genres: Fiction, Thriller
Pages: 336
Format: Trade Paper
Source: Work
Goodreads


I once read a book by a former alcoholic where she described giving oral sex to two different men, men she'd just met in a restaurant on a busy London high street. I read it and I thought, I'm not that bad. This is where the bar is set.
I've had an ARC of this thanks to one of my jobs for almost two years, and I decided to finally get around to reading it before the film was released. I still haven't seen the film yet, but I will eventually once it's released on DVD as it's not currently showing in any local theaters. This thriller doesn't bring anything new or revolutionary to the genre as it follows a similar "Girl" novel twist following the rise in popularity of Gone Girl, but it is a heck of a page-turner.
The Girl on the Train follows the life of Rachel, a divorced and unemployed woman who takes the same train every day. Rachel sees the same couple almost every day and imagines a life for them. This imaginary life becomes another one of her escapes until something terrible happens and she gets herself involved.
Hawkins's The Girl on the Train follows the lives of three women during a criminal investigation and the intertwining of those three lives with each of the other women. Each of three women are varied and complex and that adds a dimension to the novel that I didn't expect.
The story is rather predictable in the end, especially as it's called the "next Gone Girl," but Hawkins's writing style is engaging and I couldn't put it down until I finished it!
(This book was provided for reading consideration as a perk of my job, and the freebie does not impact or influence my review in any way.)