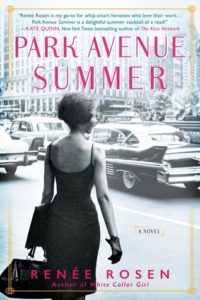 Title:

Park Avenue Summer

by Renee Rosen
Published by Berkley
Published: April 30th 2019
Genres: Fiction, Historical
Pages: 368
Format: eBook
Source: Netgalley
Goodreads


Mad Men meets The Devil Wears Prada as Renée Rosen draws readers into the glamour of 1965 New York City and Cosmopolitan Magazine, where a brazen new Editor-in-Chief--Helen Gurley Brown--shocks America by daring to talk to women about all things off limits...

New York City is filled with opportunities for single girls like Alice Weiss who leaves her small Midwestern town to chase her big city dreams and unexpectedly lands the job of a lifetime working for Helen Gurley Brown, the first female Editor-in-Chief of a then failing Cosmopolitan Magazine.

Nothing could have prepared Alice for the world she enters as editors and writers resign on the spot, refusing to work for the woman who wrote the scandalous bestseller, Sex and the Single Girl. While confidential memos, article ideas, and cover designs keep finding their way into the wrong hands, someone tries to pull Alice into this scheme to sabotage her boss. But Alice remains loyal and becomes all the more determined to help Helen succeed. As pressure mounts at the magazine and Alice struggles to make her way in New York, she quickly learns that in Helen Gurley Brown's world, a woman can demand to have it all.
Any description about a book that begins with
Mad Men
and
The Devil Wears Prada
immediately grabs my attention. Renée Rosen's
Park Avenue Summer
lived up to all of my expectations and more. Set in 1965,
Park Avenue Summer
follows the summer of Alice Weiss, a young woman headed to New York City to do good to her mother's memory and to have a fresh start. Alice lands a job at
Cosmopolitan
with the help of her aunt on her mother's side, and working for Helen Gurley Brown, who wrote
Sex and the Single Girl,
opens a lot of doors personally and professionally.
One of the things I liked most about this was the attention to detail, Rosen's ability to bring the past to life and make it fresh and modern, and Alice's growth from a relatively naive Midwestern girl to a confident woman. Helen Gurley Brown's take-no-shit attitude helped launch Cosmopolitan from the society magazine it was before to the vibrant, in-your-face magazine we still recognize today. I always tend to forget how much the 1960s shifted public perception of a lot of ideas and behaviors we take for granted today, and Rosen's story of the fictional Alice Weiss and the very real Helen Gurley Brown makes me want to read more about the history of Cosmopolitan and the publishing industry of New York in the 1960s. Rosen thankfully gives a list of recommended reading at the end of this book that will be incredibly helpful in starting my own research.
I also loved the portrait of New York City Rosen painted in her novel. Rosen captures the cutthroat reality of the city while also maintaining that the city is full of dreams just within your reach if you're willing to make the effort. NYC is a magical place for me, and I love seeing that balance portrayed so well in fiction. I love stories about women coming into their own, stories about the publishing industry in all its forms, and, of course, stories about New York City, and Renée Rosen's Park Avenue Summer was the perfect blend of all three. Be sure to check this one out at the end of the month!
Thank you Berkley for sending me an advance digital copy to read and review! All opinions are my own.