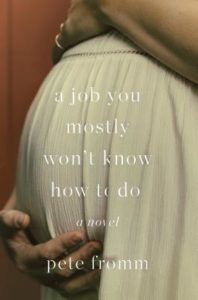 Title:

A Job You Mostly Won't Know How to Do

by Pete Fromm
Published by Counterpoint LLC
Published: May 7th 2019
Genres: Fiction
Pages: 288
Format: Trade Paper
Source: Publisher
Goodreads


Five-time winner of the Pacific Northwest Bookseller Award Pete Fromm joins Counterpoint with his big-hearted new novel, a love story about family full of hope and resiliency and second chances

A taciturn carpenter has been too busy putting the final details on others' homes to pay much attention to his own fixer-upper. But when his wife becomes pregnant with their first child, he realizes he'll need to apply his art closer to home. For Taz and Marnie, their dreams are coming into focus, sustained by their deep sense of love and now family.

The blueprint for the perfect life eludes Taz, plummeting him head first in the new strange world of fatherhood, of responsibility and late nights and unexpected joy and sorrow. It is a deceptively small novel with a very big heart.

Over eleven books and over twenty years, Pete Fromm has become one of the west's literary legends. A Job You Mostly Won't Know How To Do beautifully captures people who, isolated by land and by their actions, end up building a life that is both expected and brave.
Pete Fromm's
A Job You Mostly Won't Know How To Do
examines the aftermath of a man's experience with fatherhood after his wife dies in childbirth. It's a quiet yet emotionally wrought novel that wavers between fiction and a dream. Taz must now learn how to navigate being a father and regaining his sense of self once his plans have suddenly been shattered.
Taz is understandably overwhelmed with parenthood, a job mostly nobody knows how to do, and Fromm weaves the ins and outs and ups and downs of Taz's new life with his daughter. We see first hand the ways in which Taz makes it through the day, simply and sometimes only with his wife's voice in his head to keep him going.
Throughout the novel, imagery of rebuilding a house ties in with Taz rebuilding his life in a way that feels fresh and engaging. I didn't want to stop reading it once I picked it up. It's unflinchingly honest in its revelations of Taz's journey, but it's full of heart and understanding, and you seem to grow right along with Taz.
Read this if you want some quiet fiction with a lot of depth and enjoy stories of what it means to be a parent.
Thank you to Counterpoint LLC for sending me a complimentary copy for review! All opinions are my own.