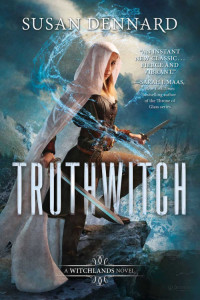 Title:

Truthwitch

by Susan Dennard
Series: The Witchlands #1
Published by Tor Teen
Published: January 5th 2016
Genres: Young Adult, Fantasy
Pages: 416
Format: Hardcover
Source: Library
Buy: Bookshop(afflilate link)
Goodreads


On a continent ruled by three empires, some are born with a "witchery," a magical skill that sets them apart from others.
In the Witchlands, there are almost as many types of magic as there are ways to get in trouble—as two desperate young women know all too well.

Safiya is a Truthwitch, able to discern truth from lie. It's a powerful magic that many would kill to have on their side, especially amongst the nobility to which Safi was born. So Safi must keep her gift hidden, lest she be used as a pawn in the struggle between empires.
Iseult, a Threadwitch, can see the invisible ties that bind and entangle the lives around her—but she cannot see the bonds that touch her own heart. Her unlikely friendship with Safi has taken her from life as an outcast into one of reckless adventure, where she is a cool, wary balance to Safi's hotheaded impulsiveness.

Safi and Iseult just want to be free to live their own lives, but war is coming to the Witchlands. With the help of the cunning Prince Merik (a Windwitch and ship's captain) and the hindrance of a Bloodwitch bent on revenge, the friends must fight emperors, princes, and mercenaries alike, who will stop at nothing to get their hands on a Truthwitch.
It wasn't freedom she wanted. It was belief in something—a prize big enough to run for and to fight for and to keep on reaching toward no matter what.
I rarely seem to see fantasy geared toward younger female readers that focuses on the friendship between the female protagonists rather than focusing mostly or entirely on the relationships with boys that the girls have. Sure, there are elements of romance in this book, but I feel as if that romance is overshadowed by the importance of a strong bond of friendship.
Each of the girls, Safiya and Iseult, possess a supernatural skill set, a "witchery," that allows them to do specific things at a heightened level. Safiya, a Truthwitch, can sense the truth in another's words. Iseult, a Threadwitch, can see threads that bind and connect the lives around her. Iseult's power doesn't work as it should, though, so that adds a level of complexity in her self discovery. Safiya's story seemed to be more conventional, following tropes of the genre, but I found Iseult's story fascinating, fresh, and exciting. Both of the girls do rely on each other a lot as the book progresses, and in some ways they can't live without each other. I think that's where a lot of the real magic is for me.
In reading this, I was hoping for a spark of a lesbian relationship, because I think it certainly has the power to go there, but I am really thankful for the strength of their friendship. Their friendship never seems forced or contrived, and it never turns catty, jealous, or superficial (something I seem to see a lot with two female leads in books marketed toward young women). Safiya and Iseult are Threadsisters, which means they are bound together and closer than family. I was also hoping for more world building. I ran into this with Cinder, too. It's as if we got a flavor of the world in which they live, but not enough to fully visualize it. We, as readers, are thrown into the beginning of the story with the barest glances at the history behind it. I was also hoping for a romance that didn't seem to happen instantly like the one between Safiya and Merik because it didn't seem to solidify itself and seemed less realistic to me. I'm hoping that with the next novel we get more world building and development all around!
Even so, I really enjoyed this one, and I can't wait for the next one to come out. I try not to fall for the hype, but I found that this one certainly lives up to many of the accolades it has received.