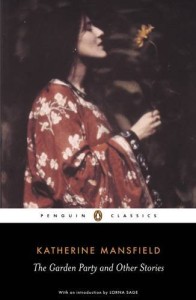 Title:

The Garden Party and Other Stories

by Katherine Mansfield
Published by Penguin, Penguin Classics
Published: 1922
Genres: Fiction, Classics
Pages: 159
Format: Trade Paper
Source: Purchased
Buy: Bookshop(afflilate link)
Goodreads


Innovative, startlingly perceptive and aglow with colour, these fifteen stories were written towards the end of Katherine Mansfield's tragically short life. Many are set in the author's native New Zealand, others in England and the French Riviera. All are revelations of the unspoken, half-understood emotions that make up everyday experience - from the blackly comic 'The Daughters of the Late Colonel', and the short, sharp sketch 'Miss Brill', in which a lonely woman's precarious sense of self is brutally destroyed, to the vivid impressionistic evocation of family life in 'At the Bay'. 'All that I write,' Mansfield said, 'all that I am - is on the borders of the sea. It is a kind of playing.'
I am trying to be better at reading short stories, and I saw a blurb about Katherine Mansfield's short stories on Alice's blog, so I checked it out and thought I'd be interested too! I enjoyed all of the stories. Some stories fell flat for me, but I thought this was a very well-rounded collection. My favorites were "The Garden Party," "The Daughters of the Late Colonel," and "The Singing Lesson."
Mansfield's short stories read like impressionist paintings. I think they need to be looked at, examined, and mulled over for a bit before the meaning settles in. I finished the book about a couple weeks ago, and I'm still thinking about the stories.
In "The Garden Party," the Sheridan family is in the midst of preparing for the titular garden party. During the set up of the party, the family finds out that their working class neighbor, Mr. Scott, has died. Laura, the daughter in charge of setting up the party, wonders if the party should be canceled out of respect for the death of their neighbor, but none of her family agrees and the party goes on. The story explores the differences between class and the awareness of class differences, the illusion created by the upper class to avoid dealing with certain realities, and the roles of life and death in day-to-day activities.
In "The Daughters of the Late Colonel," two sisters are figuring out what to do with their lives after their father's death. He was their only real relation as their mother died many years ago, and he was possibly one of the only stable men in their lives. The sisters have very little grasp on reality and how to exist in day-to-day life. This is shown through their inability to tell the cook how they want their fish cooked because they're so used to decisions being made for them and their lives dictated by others. They are both so far removed from reality that when they try to think about what to do with their future, they forget what they are even speaking about in the middle of the conversation. It's a terrible, haunting look at what happens when women aren't allowed any agency over their own lives.
"The Singing Lesson" is about a teacher, Miss Meadows, who is engaged to a man five years younger than her. Basil, her fiancé, has written to her before the story begins calling off their engagement, and Miss Meadows enters the school that morning incredibly upset. Basil writes that their "marriage would be a mistake" and that he "love[s] her as much as it is possible for [him] to love any woman" because he is "not a marrying man." The language in this convinces me that Basil is homosexual or confused about his sexuality and that he is doubting his convictions because he later sends Miss Meadows a telegram saying to disregard his letter and that he has "bought [a] hatstand," again using language that symbolizes phallic imagery. It's clear that Miss Meadows is unaware of her future husband's sexuality, and her mood changes significantly when she receives that telegram because her future is secure again. The title itself evokes the symbolism of a bird in a cage, that women are pretty things to be caged and possessed, and that men ultimately control a woman's fate and can change their minds at will with no repercussions to themselves. Both Basil and Miss Meadows are trapped by society's expectations and both are forced to "sing out" what they've been taught.
I really enjoyed this collection, and I'm looking forward to reading more by her and by Modernist writers. If you enjoy Modernist and feminist writings, I think you'll enjoy her work!