Lately I've been really aware of how many books I want to read and the limited amount of time I have in which to read, so I'm getting better about setting aside books if they aren't grabbing my interest or if something about them annoys me. And to be clear, 95% of these DNFs are ones I've borrowed from the library because I was hesitant about purchasing them in the first place so I don't feel bad about not being able to finish them. There are a few that I've bought that I'm like, ugh, I can't finish this, but thankfully those are few and far in between. I'm already thinking I need to stop using the library and actually read the ARCs, review copies, and unread books I've bought that are just sitting here.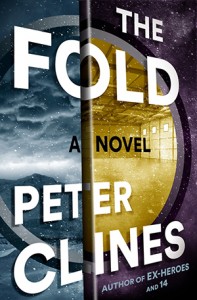 My most recent DNF is Peter Clines' The Fold. I remember enjoying Ex-Heroes a few years ago, and when I heard about this recent release, I found the idea intriguing and the cover pretty fabulous. Unfortunately, I'm sort of tired of the adult white male mastermind who can do just about anything, remember just about anything, and have no apparent faults within the first hundred pages sort of trope. So, by the time this perfect Sherlock-esque mastermind, Mike, figures out that the people who made this Door to travel to alternate timelines had no idea what they were doing, I was bored. This wasn't interesting to me at all. And I was kind of sad, because I love Sherlock-esque characters when done well, and I love time-hopping science fiction. Ultimately, what made me set the book aside was Mike's ability to rewatch entire movies in his mind before he falls asleep – that movie being Captain America: The Winter Soldier. It's a dated pop culture reference already. Ugh. Maybe I'll give it another go in a few months when I'm not all about female representation in sci-fi, because I might've been more interested in this one if the characters didn't come off as trope-y cardboard standees.
Ugh.
In better news, I'm doing really well on my reading challenge. There were a few days I barely made it over a hundred pages of reading, but I'm averaging out to be more than two hundred a day!