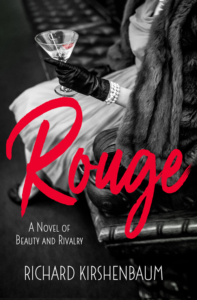 First Chapter, First Paragraph Tuesday is hosted by Bibliophile By the Sea! Today I'm featuring Rouge by Richard Kirshenbaum, sent to me by St. Martin's Press for review! Rouge is a fictional account of the first women to build major corporations in America based upon their own creations – namely beauty products. The novel follows four main characters who are all intertwined with each other throughout the decades as business and profits grow while personal lives become more and more entangled with personal and professional rivalries. I'll have a full review posted next week, so keep your eyes out for that, but for now, enjoy this little sneak peak!
New York City, 1933

A Technicolor sky hung over the city even though it was only early May. At times, even New York City seemed to have caught the bug. The pear trees that bloomed like white fireworks every April may as well have sprouted palm trees. Everyone, it seemed, had just stepped out of a Garbo movie, and Josephine Herz (née Josiah Herzenstein) would be damned if she would not capitalize on this craze.

A young, well-kept woman was the first to grace her newly opened, eponymous salon on Fifth Avenue. With bleached-blond "marcelled" hair, a substantial bust, and a mouth that looked as though it had been carved from a pound of chopped meat, her new client had all the ammunition to entrap any man in the city, to keep him on the dole, and her cosmetic hygienist, in this case Herz Beauty, on the payroll. She lowered herself onto the padded leather salon chair like a descending butterfly and batted her eyes as though they too might flutter from her face.
I've taken this from the actual first chapter, rather than the prologue, and included a bit more than just the first paragraph. What do you think? Many thanks to St. Martin's Press for sending me a complimentary review copy! Stay tuned for a full review next week!