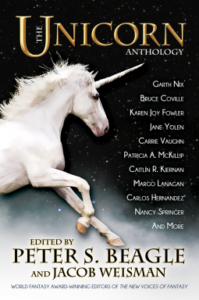 Title:

The Unicorn Anthology

by Peter S. Beagle, Jacob Weisman, Garth Nix, Carrie Vaughn, Patricia A. McKillip, Bruce Coville, Carlos Hernandez, Karen Joy Fowler, Jane Yolen, Nancy Springer, Cailtin R. Kiernan, Margo Lanagan
Published by Tachyon Publications
Published: April 19th 2019
Genres: Fantasy
Pages: 288
Format: eBook
Source: Netgalley
Goodreads


"What a treasure trove!"—Sarah Beth Durst, author of Queen of the Blood

Unicorns: Not just for virgins anymore. Here are sixteen lovely, powerful, intricate, and unexpected unicorn tales from fantasy icons including Garth Nix, Peter S. Beagle, Patricia A. McKillip, Bruce Coville, Carrie Vaughn, and more. In this volume you will find two would-be hunters who enlist an innkeeper to find a priest hiding the secret of the last unicorn. A time traveler tries to corral an unruly mythological beast that might never have existed at all. The lover and ex-boyfriend of a dying woman join forces to find a miraculous remedy in New York City. And a small-town writer of historical romances discovers a sliver of a mysterious horn in a slice of apple pie.
I love unicorns. The mythology surrounding unicorns is so intriguing to me, especially when the traditional concepts of unicorns are broken down, dismantled, and challenged, and the idea of innocence and purity is explored in so many of the stories in this volume. What does it mean, ultimately, to be innocent and pure? How can one take the familiar myths of unicorns and subvert them?
This is not an anthology for younger readers, as there are references to bestiality (didn't finish this story), references to sexual acts, and references to heavy-handed violence to people of all ages. This is a collection of stories that will make you reconsider the unicorn trope, and the collection includes a wide variety of stories to appeal  Overall, it's a solid collection of stories, and I found myself wishing for a few more at the end.
My favorites were "The Maltese Unicorn" by Caitlín R. Kiernan (the lesbian unicorn noir you didn't know you needed to read until now), "Ghost Town" by Jack C. Haldeman II (brother of Joe Haldeman!, and I also love western-esque stories about rogues being changed by chance encounters in nearly-abandoned towns), "The Highest Justice" by Garth Nix (I love anything Nix writes), "Survivor" by Dave Smeds (a Vietnam soldier gets a unicorn tattooed on his chest and therefore cannot die), "Homeward Bound" by Bruce Coville (he wrote a series of unicorn books for middle grade readers that I thoroughly enjoyed and was happy to see another unicorn story by him!), and "The Transfigured Hart" by Jane Yolen (anything she writes is pure magic and pure joy).
This collection comes with a recommendation from me, especially with the introduction by Peter S. Beagle himself.
This releases April 19, 2019! Thank you to Tachyon Pub and Netgalley for a complimentary copy to read and review. All opinions are my own