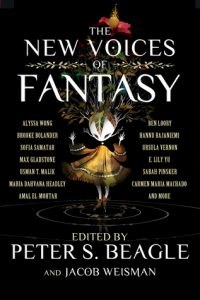 Title:

The New Voices of Fantasy

by Peter S. Beagle, Jacob Weisman
Published by Tachyon Publications
Published: August 8th 2017
Genres: Fantasy, Fiction
Pages: 336
Format: eBook
Source: Netgalley
Goodreads


Ready for the next big thing?

The New Voices of Fantasy spotlights nineteen breakout writers who are reinventing fantasy right now. Usman T. Malik, Sofia Samatar, Eugene Fischer, E. Lily Yu, Ben Loory, Maria Dahvana Headley, Ursula Vernon, Max Gladstone, and other emerging talents have been hand-picked by fantasy legend Peter S. Beagle (The Last Unicorn) and genre expert Jacob Weisman (Treasury of the Fantastic). International, crosscultural, and fearless, many of these rising stars have just or are about to publish their first novels and collections. They bring you childhood stories gone wrong, magical creatures in heat, a building that's alive and full of waiters, love, ducks, and a new take on a bloodsucking fiend.

Table of Contents:"Hungry Daughters of Starving Mothers" by Alyssa Wong"Selkie Stories are for Losers" by Sofia Samatar"Tornado's Siren" by Brooke Bolander"Left the Century to Sit Unmoved" by Sarah Pinsker"A Kiss with Teeth" by Max Gladstone"Jackalope Wives" by Ursula Vernon"The Cartographer Wasps and Anarchist Bees" by E. Lily Yu"The Practical Witch's Guide to Acquiring Real Estate" by A. C. Wise"The Tallest Doll in New York City" by Maria Dahvana Headley"The Haunting of Apollo A7LB" by Hannu Rajaniemi"Here Be Dragons" by Chris Tarry"The One They Took Before" by Kelly Sandoval"Tiger Baby" by JY Yang"The Duck" by Ben Loory"Wing" by Amal El-Mohtar"The Philosophers" by Adam Ehrlich Sachs"My Time Among the Bridge Blowers" by Eugene Fischer"The Husband Stitch" by Carmen Maria Machado"The Pauper Prince and the Eucalyptus Jinn" by Usman T. Malik
Edited by Peter S. Beagle and Jacob Weisman, 
The New Voices of Fantasy
is a solid collection of short stories introducing new and familiar readers of fantasy to relatively new writers to the genre. I say relatively, because a good portion of these appear to have been originally published in 2014 and 2015, and it's 2017 now, so that's a few years ago now. However, I feel like I read a lot of fantasy and science fiction and follow quite a few of these writers on social media (and follow writers who have introduced some of these writers to me), so those who are either not active on social media or casual readers of the genre will find these to be "new" writers!
My favorite stories in the collection are: Brooke Bolander's "Tornado's Siren" that's about a tornado who falls in love with a girl; Max Gladstone's "A Kiss With Teeth" that's about Vlad the Impaler living in the modern age and the struggles he faces in deciding whether or not to remain appearing like a human or to give into his vampiric tendencies; and Ursula Vernon's "Jackalope Wives" that's about shapeshifters that brought me to near-tears by the end with longing.
Several of the stories verge on the science/speculative fiction aspect, but genre is something so easily malleable and never a definite thing. It's a perfect fall read as so many of the stories are terrifying, dark, and beautiful.
Thank you to Netgalley for a review copy! All opinions are my own.