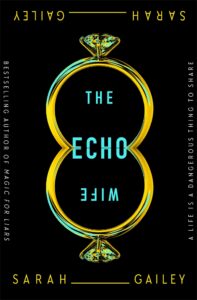 Title:

The Echo Wife

by Sarah Gailey
Published by Tor Books
Published: February 16 2021
Genres: Fiction, Thriller, Science Fiction
Pages: 256
Format: ARC
Source: Netgalley, Publisher
Buy: Bookshop(afflilate link)
Goodreads


The Echo Wife is a non-stop thrill ride, perfect for readers of Big Little Lies and enthusiasts of Killing Eve and Westworld­

Martine is a genetically cloned replica made from Evelyn Caldwell's award-winning research. She's patient and gentle and obedient. She's everything Evelyn swore she'd never be.

And she's having an affair with Evelyn's husband.

Now, the cheating bastard is dead, and the Caldwell wives have a mess to clean up. Good thing Evelyn Caldwell is used to getting her hands dirty.

When they said all happy families are alike, this can't be what they meant...
Sarah Gailey's
The Echo Wife
reminds me so much of Mary Shelley's
Frankenstein
crossed with a domestic thriller in the sense of examining the question: how much responsibility do we carry for our creations?
Evelyn Caldwell's research leads to genetically cloned replicas of people, and her entire life is shattered when she discovers that her husband stole her research and created her clone – a "better" version of herself so that he could have what he wanted out of their marriage. Evelyn is a workaholic who prefers to work to starting a family, so when she discovers that Nathan, her husband, is wanting a divorce because he has created an Evelyn clone named Martine who is everything Evelyn couldn't be for him – including being the mother of his child. The twist in general domestic thrillers usually ends here, but this is where the story actually begins.
Clones, by design, should not be able to get pregnant, but Martine clearly is carrying Nathan's child. This is only the survace of the story, and it dives deeper and deeper into uncanny territory the more Evelyn gets to know Martine. Everything takes a complete turn when Evelyn receives a call from Martine saying she has killed Nathan. The only way the two decide to cover this up as Martine's existence, and pregnancy, are illegal, is to create a clone of Nathan. As they bury and re-bury Nathan's body in the backyard, Evelyn and Martine realize they have only scratched the surface of what Nathan has done.
I loved this so much. I've loved every single book Gailey has written, and I'm sure I'll love everything they'll ever write. They have such a knack for taking a trope, running with it, and twisting it so that you have to continue reading to see how everything unfolds and resolves. This is one of my favorite science fiction and thriller books I've read in a bit, and I'll be recommending this one to everyone on its release in February. And I'm sorry you have to wait that long to get your hands on this, but believe me, it's well worth your time and consideration, because I hope, like me, you'll continue thinking about the nature of personal responsibility in the aftermath of creating something.
Thank you to Tor and Netgalley for an early copy to read and review! All opinions are my own.