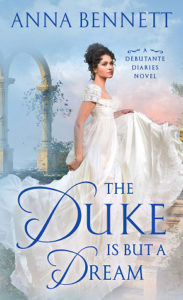 Title:

The Duke Is But a Dream

by Anna Bennett
Series: Debutante Diaries #2
Published by St. Martin's Paperbacks
Published: July 30th 2019
Genres: Romance
Pages: 311
Format: ARC
Source: Netgalley
Goodreads


Once upon a time three young ladies vowed to record their first London seasons…and to fill in the gaps of their finishing school educations. Thus began The Debutante Diaries—and London will never be the same…

HE'S COME TO HER RESCUE

Miss Lily Hartley is the anonymous mastermind behind the ton's latest obsession: The Debutante's Revenge, a titillating advice column for ladies on the marriage mart. To keep her identity secret, Lily delivers her columns disguised as a chimney sweep—which is all well and good, until she unwittingly lands in the middle of an ugly tavern brawl. Fortunately, the devastatingly handsome Duke of Stonebridge sweeps in to rescue her.Unfortunately, Lily's dressed as a boy—and holding rather incriminating evidence linking her to the scandalous column. Drat.

SHE'S LOST HER MEMORY

When Eric Nash, Duke of Stonebridge, sees a helpless lad receive a nasty blow to the head, he's outraged. But when he discovers there's a beautiful woman hiding beneath the chimney sweep's cap, he's positively stunned. Nash would happily escort her home, but she's forgotten her name—leaving him little choice but to take her in himself until he can locate her family. But the closer he gets to finding them, the more he doesn't want to let her go.

WILL THEY FIND LOVE?

Lily's trying to figure out exactly who she is…in more ways than one. With so much at stake—her column, her reputation, and even her heart—she needs a plan, and she needs it fast. Before Nash finds her family. Before he learns who she is. Before they fall totally, completely, and utterly inconveniently in love.
Me? Reading and reviewing more romance? If you asked me a year ago that I'd be where I am now with regards to reading more of what's often categorized as "romance," I probably wouldn't believe you. But there's a lot of things that have happened in the last year that I have trouble believing, so here we are. I requested a few romance titles that sounded interesting to me on Netgalley, and
The Duke is But a Dream
caught my eye because the protagonist, Lily, writes a regular advice column called "The Debutante Diaries" that has captivated all of London. When she gets into a scuffle dressed as a boy, Lily is hurt and has amnesia, and a duke comes to her rescue.
For the most part, I enjoyed this! It was well-paced and kept me wanting to find out what happened at the end, but ultimately it felt timeless in the sense that I couldn't tell you in what era in the past this book was set. I read historical romance for those details, but this seemed to gloss a lot of those historical placement markers and favored a more modern approach to language and behavior. I hadn't realized this was the second in a series either, and I might check out the first one from the library to see if the first sets up that historical placement a little more because I know series in general rely on that first book to set up everything while the rest follow on the hopes that the reader recalls the setting of the first!
It's enjoyable enough for me to look out for the next book in the series once it's released and to check out the first one! Many thanks to St. Martin's Press and Netgalley for an e-ARC to review. All opinions are my own.