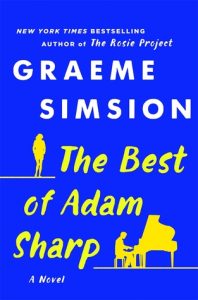 Title:

The Best of Adam Sharp

by Graeme Simsion
Published by St. Martin's Press
Published: May 2nd 2017
Genres: Fiction
Pages: 314
Format: Hardcover
Source: Book Sparks
Goodreads


From the #1 bestselling author of The Rosie Project and The Rosie Effect, an unforgettable new novel about lost love and second chances

On the cusp of turning fifty, Adam Sharp likes his life. He's happy with his partner Claire, he excels in music trivia at quiz night at the local pub, he looks after his mother, and he does the occasional consulting job in IT.

But he can never quite shake off his nostalgia for what might have been: his blazing affair more than twenty years ago with an intelligent and strong-willed actress named Angelina Brown who taught him for the first time what it means to find—and then lose—love. How different might his life have been if he hadn't let her walk away?

And then, out of nowhere, from the other side of the world, Angelina gets in touch. What does she want? Does Adam dare to live dangerously?
The Best of Adam Sharp
is the latest by Graeme Simsion, the author of the highly-acclaimed 
The Rosie Project
. 
The Best of Adam Sharp
follows the life of a British man at fifty-something reminiscing about a relationship he had twenty years ago with Angelina Brown, an intelligent and beautiful actress. When the two had a chance to be something more than just a passionate fling, Sharp doesn't take the chance and the two part ways. Twenty years after the two part ways, Adam receives a message from Angelina, and it causes him to wonder about the stability of everything in his life.
Unable to stop thinking about what might have been, Adam takes the chance and reconnects with Angelina, only to find out that it's probably better to let what happened in the past and what fizzled out in the past remain in the past because it's never going to be what you think and hope it will be, because Angelina is with someone else and really has no intention of ultimately shaking up her own life just to have a taste of that "what could have been."
As I was reading this, I kept thinking I am not the target audience for this book. I'm about twenty years too young to really relate to anything that's going on in the story, except for the flashbacks to Adam and Angelina's initial romance. I think this would be a better read for someone who is a bit older than I am, someone who has had the chance to love and let go in this kind of way or for someone who is a little bit more of a romantic than I am. I also found it interesting that it played with the idea of polyamory and extra people in a relationship for a bit, and that's the first time I've seen it in commercial fiction in a somewhat positive light. Then again, I don't always gravitate toward commercial fiction with a romantic bent, so I might be completely off the mark in that! However, the writing made this a highly compulsive read, and I definitely wanted to see how everything played out for Adam and how it resolved itself. In the end, I felt that Adam got what he wanted and what he deserved as fairly as the universe could possibly present it to him. It's never easy coming to terms with a lost love and the chance and failure of reconciliation, but sometimes it's the journey that really matters.
I received this book from Book Sparks and the publisher for review! All opinions are my own.