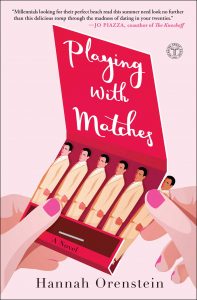 Title:

Playing with Matches

by Hannah Orenstein
Published by Touchstone
Published: June 26th 2018
Genres: Fiction, Romance
Pages: 314
Format: Trade Paper
Source: Publisher
Goodreads


In the tradition of Good in Bed and The Assistants comes a funny and smart comedy about a young matchmaker balancing her messy personal life and the demands of her eccentric clients.

Sasha Goldberg has a lot going for her: a recent journalism degree from NYU, an apartment with her best friend Caroline, and a relationship that would be amazing if her finance-bro boyfriend Jonathan would ever look up from his BlackBerry. But when her dream career falls through, she uses her family's darkest secret to land a job as a matchmaker for New York City's elite at the dating service Bliss.

Despite her inexperience, Sasha throws herself into her new career, trolling for catches on Tinder, coaching her clients through rejection, and dishing out dating advice to people twice her age. She sets up a TV exec who wanted kids five years ago, a forty-year-old baseball-loving virgin, and a consultant with a rigorous five-page checklist for her ideal match.

Sasha hopes to find her clients The One, like she did. But when Jonathan betrays her, she spirals out of control—and right into the arms of a writer with a charming Southern drawl, who she had previously set up with one of her clients. He's strictly off-limits, but with her relationship on the rocks, all bets are off.

Fresh, sweet, and laugh-out-loud funny, Playing with Matches is the addictive story about dating in today's swipe-heavy society, and a young woman trying to find her own place in the world.
Hannah Orenstein's
Playing With
Matches is a fun romantic comedy following the dating mishaps Sasha Goldberg has while she tries to create the perfect dating experiences as a matchmaker for her clients. It's a completely perfect summer read. I started following Hannah on Instagram last year when Touchstone first announced her book, and it's been such a fun experience watching her book go from the earliest bound galleys to the finished product.
I read this book in a handful of sittings, and it was such a joy to read. Hannah's writing style and voice is fresh and fun, and she plays with a lot of romantic comedy tropes that left me turning the pages. Sasha Goldberg's voice is both appropriate to her young age and also wise beyond her years, and the character felt real and so well-developed. I felt for her and wanted her to succeed, and I couldn't wait to see what happened next. The other characters in Playing With Matches added such a dynamic to the story. Sasha as a matchmaker who had dating issues of her own made me laugh out loud several times throughout reading the book, and the twists and turns throughout her own dating adventures were entertaining and surprising. I didn't expect a few of them! It felt like I was reading one of the classic Nora Ephron romantic comedies. I really hope someday to see more feel-good, hopeful, fun romantic comedies with this same feel on the screen soon, and I desperately hope Playing With Matches makes it to the big screen someday because I think it would be so much fun.
If you're in the mood for some fresh romantic comedy to read this summer, go out and get yourself a copy of Playing With Matches!
Thank you to Touchstone for sending me a free copy of the book for review!