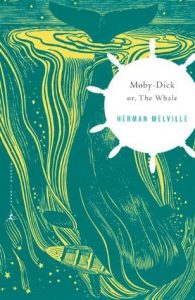 Title:

Moby-Dick; or, The Whale

by Herman Melville
Published by Modern Library
Published: October 18th 1851
Genres: Classics, Fiction
Pages: 896
Format: Trade Paper
Source: Purchased
Goodreads


First published in 1851, Melville's masterpiece is, in Elizabeth Hardwick's words, "the greatest novel in American literature." The saga of Captain Ahab and his monomaniacal pursuit of the white whale remains a peerless adventure story but one full of mythic grandeur, poetic majesty, and symbolic power. Filtered through the consciousness of the novel's narrator, Ishmael, Moby-Dick draws us into a universe full of fascinating characters and stories, from the noble cannibal Queequeg to the natural history of whales, while reaching existential depths that excite debate and contemplation to this day.
The Modern Library Classics edition contains original illustrations by Rockwell Kent.
Introduction by Elizabeth Hardwick.
There are certain queer times and occasions in this strange mixed affair we call life when a man takes this whole universe for a vast practical joke, though the wit thereof he but dimly discerns, and more than suspects that the joke is at nobody's expense but his own.
What can I say about Moby-Dick that hasn't been said already? If you would have told me several years ago that I'd read this book out of pure curiosity rather than out of obligation for an assignment or something, I probably wouldn't have believed you. It's been on the peripheral to-read list forever simply because it's considered one of the greatest American novels, and I probably would have read it just for that alone, but after discovering some of the history behind the novel and about the author, I had to read it for myself.
From the beginning, I was drawn into Ishmael's recount of his adventures in pursuit of the great white whale, drawn into Ishmael's deep friendship with Queequeg (to the point of me asking myself is this actually happening several times, especially when Ishmael and Queequeg lounged in bed with legs thrown over each other's), and drawn into Captain Ahab's nautical quest to dominate a perceivably indomitable whale.
I can just imagine Ishmael scribbling this narrative out on the ship by oil lamp, during the drudgeries of the day-to-day ship life. Technically, he probably didn't, if you really want to get into semantics, but the idea of a man in that white-hot writing groove writing about whales and ship life and Ahab's history and all of the things one does on a ship in the middle of a vast ocean is more thrilling than I could have ever imagined it to be.
And, honestly, I think I read it at a pertinent time in my life. Had I read it before I learned the history of the narrative, the novel, the American novel, religion and its function in the American novel, the personal lives of Melville (and by extension Hawthorne), and postmodernism (and one can argue whether or not this novel is considered postmodern, but it's different than anything else I've read from the time period and knowing how postmodernism works in a literary setting adds to my own consumption and enjoyment of the novel on some level because its lucidity is very much like James Joyce's style), I probably wouldn't have appreciated it as much as I do now. It's a hefty novel, a undertaking, but it's so incredibly worth it.