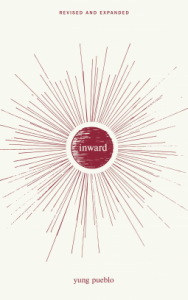 Title:

Inward

by yung pueblo
Published by Andrews McMeel Publishing
Published: September 25, 2018
Genres: Poetry
Pages: 240
Format: eBook
Source: Netgalley
Goodreads


Inward is a collection of poetry, quotes, and prose that explores the movement from self love to unconditional love, the power of letting go, and the wisdom that comes when we truly try to know ourselves. It serves as a reminder to the reader that healing, transformation, and freedom are possible.
water teaches flexibility and power

earth expresses firmness and balance

air sings of intelligence and bravery

fire speaks of action and growth
Inward is a collection of poems and writing that feels a lot like a meditation guide. It often felt repetitive in its themes and words, but I think that added to the meditative aspect of it. I don't read a lot of contemporary poetry, but something about Pueblo's writing struck a chord with me at the time I read it. The writing took me out of my chaotic brain for a little while and brought peace and clarity. I think having a physical copy of this nearby would be nice to flip through now and again when you're looking for some uplifting words and thoughts.
Reading this made me want to write for myself more in my journal because I think it's important to record our thoughts and think about where we were at a certain point in our lives because later reflection often brings a lot of insight.
Many thanks to Netgalley and the publisher for a digital review copy. All opinions are my own. This releases with Andrews McMeel on September 25, 2018!