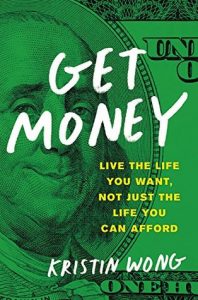 Title:

Get Money: Live the Life You Want, Not Just the Life You Can Afford

by Kristin Wong
Published by Hachette Books
Published: March 27th 2018
Genres: Non-Fiction
Pages: 320
Format: Trade Paper
Source: Publisher
Goodreads


Learn how to live the life you want, not just the life you can afford!

Managing your money is like going to the dentist or standing in line at the DMV. Nobody wants to do it, but at some point, it's inevitable: you need to clean your teeth, renew your license, and manage your personal finances like a grown-up. Whether you're struggling to pay off student loan debt, ready to stop living paycheck to paycheck, or have finally accepted that your Beanie Baby collection will never pay off, tackling your finances may seem immensely intimidating. But it doesn't have to be. By approaching personal finance as a game--something that requires you to set clear goals, as well as face challenges you must "beat"--personal finance can not only be easy to understand, but it can also be fun!
Sometimes life brings you a book exactly when you need it. 
Get Money
by Kristin Wong came at just the right time. Nobody likes to actually think about money or talk about it or do anything about it, and by nobody, I mostly mean me. But at thirty, I need to really start planning for my future and stop being so lazy and inconsequential about my finances.
Most money management books I've flipped through seem condescending and critical to their readers, but Get Money is like having a short, but serious, financial conversation over coffee with a friend who wants to see you succeed in all aspects of your life. The book is divided into chapters after which you "level up" and proceed to the next more challenging, more serious step in getting your money under control. I love that Wong provides no-nonsense advice along with worksheets to track your planning and money. The worksheets are in the book as well as on a website listed in the book so you can print them out to keep yourself organized!
For someone like me, turning something as tedious and boring as money management into a game is what works for me. I'm already applying some of the ideas Wong offers in the book to build up my savings and get a better handle on my goals and how I want to make my money work for me.
If you are wanting to learn some money management skills or just to get a few new ideas to boost your portfolio, check out Kristin Wong's Get Money!
Many thanks to Hachette Books for sending me a free copy to review; all opinions are my own.