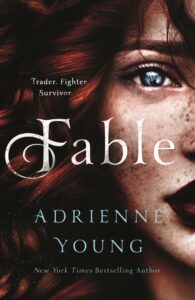 Title:

Fable

by Adrienne Young
Series: Fable #1
Published by Wednesday Books
Published: September 1st 2020
Genres: Fantasy
Pages: 368
Format: ARC
Source: Netgalley, Publisher
Buy: Bookshop(afflilate link)
Goodreads


As the daughter of the most powerful trader in the Narrows, the sea is the only home seventeen-year-old Fable has ever known. It's been four years since the night she watched her mother drown during an unforgiving storm. The next day her father abandoned her on a legendary island filled with thieves and little food. To survive she must keep to herself, learn to trust no one and rely on the unique skills her mother taught her. The only thing that keeps her going is the goal of getting off the island, finding her father and demanding her rightful place beside him and his crew. To do so Fable enlists the help of a young trader named West to get her off the island and across the Narrows to her father.

But her father's rivalries and the dangers of his trading enterprise have only multiplied since she last saw him and Fable soon finds that West isn't who he seems. Together, they will have to survive more than the treacherous storms that haunt the Narrows if they're going to stay alive.

Welcome to a world made dangerous by the sea and by those who wish to profit from it. Where a young girl must find her place and her family while trying to survive in a world built for men.
You weren't made for this world, Fable.
I have a weakness for pirate and pirate-related stories, especially when they're female character centered. Adrienne Young's Fable is the first book in a duology that follows a young woman named Fable who has been left on an island by her father with the directive to get off that island. Once she gets off the island by spending the last of her coin, Fable begins to realize there is so much more to the world in which she lives and to which she discovers she belongs than she had ever imagined.
As a dredger, Fable dives to collect stones in the sea, and she keeps to herself that she has a knack for discerning the truth about stones and gems. During her voyage on The Marigold, the crew learns that Fable's stone-scrying ability isn't just a hunch or a knack; she could be a stone sage, one who intuitively knows everything about a particular stone and its value. Her abilities as a stone sage tie into her family, and the more she learns about her father who left her on the island and her mother who died in a wreck the more she learns about herself and who she is – and who she's meant to be.
To Fable, nobody is who they present themselves to be. Everyone, including her, carries secrets that are only revealed in time. The book itself is slow to open and slow to make these revelations, and once they are revealed I was left both satisfied and wanting more. By the time the action picked up and carried me through the last third of the novel, it was over and left on a cliffhanger that made me glad the sequel is releasing in only a few months! Each of the characters lean more toward the morally grey area that seems relatively popular in YA fantasy these days, and this leans into the grimdark style of fantasy too. It's a harsh world, and you can only survive if you keep the soft, quiet things close to your heart.
Even though the world-building takes up quite a chunk of this first installment of a duology, it never felt unnecessary. The tension created from the first line ties all of this story together (and hopefully through the sequel!), and the tension kept me turning the pages to see where and how it would all tie together. I was not disappointed, and I can't wait to see how all of this ends. If you like Pirates of the Caribbean and The Princess Bride, I think this one will be right up your alley.
Thank you to Wednesday Books and Netgalley for an advance copy to read and review! All opinions are my own.