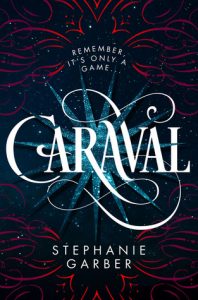 Title:

Caraval

by Stephanie Garber
Series: Caraval #1
Published by Flatiron Books
Published: January 31st 2017
Genres: Young Adult, Fantasy
Pages: 407
Format: Trade Paper
Source: Work
Goodreads


Hope is a powerful thing. Some say it's a different breed of magic altogether.
The buzz for Stephanie Garber's Caraval said it's perfect for those who like Erin Morgenstern's The Night Circus and Neil Gaiman in general, but you know, for teen audiences. While it lacks the complexities found in Morgenstern's and Gaiman's works, I can see why other people made the connection. It's magical, and it's that kind of YA fantasy that's like candy, all sweet, a little sour, not much by way of depth, so if you're expecting the kind of depth and complexity that The Night Circus offered, you'll be disappointed. This is the kind of book I can see myself reading again while at the beach or outside in the summer with a cold drink. I really enjoyed reading this. I struggled for the first fifty or so pages because I think I was expecting a similar kind of world-building that came with The Night Circus or the ominous, lingering darkness found in Gaiman's works, but once the story really started picking up speed, I couldn't put this down.
Caraval follows two sisters, Scarlett and Tella, who live with their overbearing, abusive father. They've never left their homeland, and Scarlett has especially dreamed of visiting the mythical, traveling Caraval. The invitations are exclusive, but Tella and a mysterious sailor whisk Scarlett away to the oft-dreamed about place. Once there, Scarlett realizes that there is so much more to Caraval that she could imagine and danger is always within reach, that all sorts of risks are involved with games.
The romance and everything seemed to be a whirlwind ride and almost a little too fast-paced, but then I remembered what it was like to have a crush on someone when I was younger, and the rise and fall of that crush seemed to only take a week with a burst of intense emotion between the beginning and the end. In that sense, it almost seems like a warning to the younger crowd – be mindful of your heart, your desires, and your hope, because it might be destructive if you don't think it through.
I received an advance copy of this book through my work. All opinions are my own.